04.08.09
home | the papers | metro santa cruz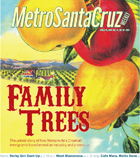 Appletown Chronicles
A new book reveals the untold story of how Watsonville's Croatian immigrants transformed the apple industry and changed the Pajaro Valley forever.

A League of Their Own
The Santa Cruz Roller Girls split from their founder and changed their name, but there are no hard feelings. Really.
End Game
Labor and builder go head-to-head in final phases of city's La Bahia approval process.
Nūz: Santa Cruz County News Briefs
Magnificent marine mammal washes up on Santa Cruz shore, is carted off to dump.

Trial by Jury
The Russian feature '12' puts an Eastern spin on classic jury drama '12 Angry Men.'
Raised on Robbery
'Skills Like This' offers up an ad man's vision.
The Good Roman
'The Robe' presents tolerance, circa 1953.

MORE MOVIE REVIEWS

SANTA CRUZ COUNTY MOVIE TIMES

Analogia
Mad scientists of indie rock, Menomena moves forward by doubling back.
Tabla Dance
Santoor master Shivkumar Sharma and tabla titan Zakir Hussain continue a 40-year tradition of joining forces onstage.
Mūz
Curtis Cartier muses upon the phenomenon of newly popular indie bands who have no more time for fans.
Music and Nightlife Calendar Picks
The Jayhawks, John Scofield, Guttermouth, Norton Buffalo and Band of Horses head to Santa Cruz stages in a week with something for everyone.

MORE MUSIC AND NIGHTLIFE

MUSIC AND CLUBS LISTINGS

Italian by the Sea
Café Mare carries on the European tradition of flavorful, leisurely lunches.

BOOK A RESTAURANT RESERVATION

FIND A RESTAURANT REVIEW

Love, Dad
Nickelodeon founder Bill Raney pens a fine travelogue and a moving portrait of grief in 'Letters to Zerky.'

Letters to the Editor
April 8-15, 2009