04.01.09
home | the papers | metro santa cruz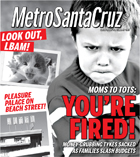 Local Kids Hit Hard by Layoffs
Budget cuts by society's basic economic unit seen as necessary to survive tough economic times.

Dominant Paradigm Stable
Despite long-running campaign, Santa Cruz deemed "No Longer Weird"
Council Thais One On
Move over, La Bahia--Little Bangkok is here.
Nūz: Santa Cruz County News Briefs
Santa Cruz Council mulls ban on appearing to be up to no good, CDFA announces 'last feline of defense' against LBAM, sea lion negotiations break down yet again and frog-licking enters the mainstream.

Bananas
'Adventureland' takes us back to the '80s, Mottola style.
Problem Solving
Animated 'Monsters vs. Aliens' overcomes technical hurdles but lacks passion.

MORE MOVIE REVIEWS

SANTA CRUZ COUNTY MOVIE TIMES

Lila Downs Time
The Mexican folk chanteuse makes for the Rio stage with a new album of material inspired by the Oaxacan political crisis.
Chamber Magic
Maya Barsacq keeps fans of the Santa Cruz Chamber Players guessing with inventive programming.
Mūz
Curtis Cartier uncorks on Internet torrent file barons The Pirate Bay, now on trial in Sweden for copyright infringement.
Music and Nightlife Calendar Picks
Joshua Redman, Arlo Guthrie, Leon Redbone, Vetiver, Ratatat and TSOL come to Santa Cruz in a banner week of music. And that's not even the whole list.

MORE MUSIC AND NIGHTLIFE

MUSIC AND CLUBS LISTINGS

Parsing Pinot
Stett Holbrook breaks down the characteristics of pinot noir across the Santa Cruz Mountains.

BOOK A RESTAURANT RESERVATION

FIND A RESTAURANT REVIEW

Dancing Among the Stars
Two unique dance performances get set to dazzle Santa Cruz stages.

Letters to the Editor
April 1-8, 2009