04.01.09
home | metro santa cruz index | music & nightlife | band review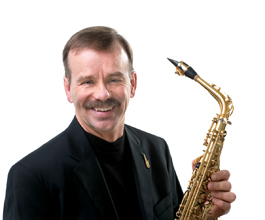 Horn Section: San Jose State music prof Dale Wolford plays saxophone in the Santa Cruz Chamber Orchestra's Saturday performance of 'Night Prayers.'
Chamber Magic
Maya Barsacq keeps fans of the Santa Cruz Chamber Players guessing with inventive programming.
By Scott MacClelland
For many musicians, working in music means always looking for work. Maya Barsacq, on the other hand, makes music work for her. French-born and raised, Barsacq decided that music, not biochemistry and literature, was her truest calling and began pursuing a master's degree in conducting.
In the course of her studies she hooked up with UCSC's Nicole Paiement. Later she met Barbara Day Turner, music director of the San Jose Chamber Orchestra, and found in her a kindred spirit. "Turner is very hands-on," said Barsacq in a recent chat. "She aligns more with my philosophy, and her programming inspired me."
"Inspired" seems to be the right word here. With Barsacq as muse, many local musicians soon found themselves drawn together to make sparks fly. Critical mass arrived with the formation of the Santa Cruz Chamber Orchestra, which numbers typically between 15 and 20 players.
"Our first concert was in October 2006," says Barsacq. That program put Pergolesi's Stabat Mater, featuring soprano and alto voices, next to Grieg's Holberg Suite, the two works separated by 150 years. Anyone familiar with Day Turner's programming will not fail to see the influence on Barsacq's own.
Barsacq says creative programming keeps local musicians--who she says were playing only intermittently in this community--interested in the project.
"I feel the musicians are the most important part of the organization," she says, explaining that she gets good ideas from them. "They come back because of the programming. And the fun."
It's one thing to spy a niche in the local music community that no one else is filling. It's another to actually launch such a project. KUSP, where Barsacq is a part-time programmer, extended its nonprofit umbrella to the orchestra but left the organizational structure to--well, Barsacq.
"I do it all," she says, "like Day Turner does." That means programming, music preparation, fundraising and administration. Pile on to that the numerous collaborations with other area performance groups Barsacq's programming has engaged. But, she adds, "We have volunteers and an advisory board."
For her April 4 concert, "Night Flight," Barsacq will conduct the Georgian composer Giya Kancheli's Night Prayers for soprano saxophone, treble voice and strings, and the first of three Antonio Vivaldi cantata settings of the acrostic psalm 112, "Laudáte púeri Dóminum," for soprano and strings. The first was composed in the early 1990s, the second circa 1715, in a classic Barsacq combo.
"What drew me to the Kancheli is the juxtaposition between the quietness and erraticness of the piece," she says. "It has space for improvisation, something so many modern pieces lack, that allows the soloist a moment to express himself."
She sees it in a larger context as well. "I feel it delves into our modern reality, searching to find quietness and peace at a turbulent times in the modern world, this dichotomy, this paradox, a prayer on finding that middle ground."
The work itself is quietly meditative much of its 23 minutes, of grief and lamentation, only to erupt midway into shattering convulsions, at the point where the saxophone is given greatest freedom of expression.
NIGHT FLIGHT, with the Santa Cruz Chamber Orchestra, is Saturday, April 4, at 8pm at First Congregational Church, 900 High St., Santa Cruz. Tickets are $20 general/$15 seniors/$10 students, available at Streetlight Records or at 800.838.3006.
Send a letter to the editor about this story.