04.01.09
home | metro santa cruz index | the arts | dance | review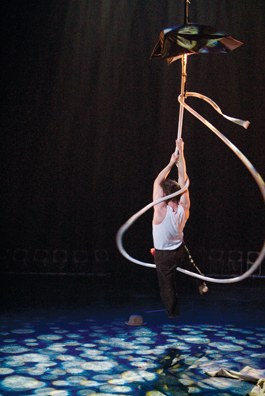 Hanging out: Cirque du Soleil-trained aerial dancer Kevin O'Connor performs 'The Sunlight Zone' at the Vets Hall.
Dancing Among the Stars
Two unique dance performances get set to dazzle Santa Cruz stages.
By Michelle Camerlingo
Kevin O'Connor's dance debut was on a jungle gym at the tender age of 5. And the dancer/acrobat hasn't stopped moving since. Before attending the esteemed National Circus School of Montreal (started by Cirque du Soleil), O'Connor practiced dance at England's National Centre of Circus Arts. Trained extensively in corde lisse, an aerial circus skill involving acrobatics on a vertically hanging rope, O'Connor brings a new multimedia aerial dance work to the stage with The Sunlight Zone.
The Sunlight Zone was born when the Canadian government commissioned O'Connor to create an evening-length piece. The result is meant to mirror the connection between an urban environment and its water cycle, bringing attention to the importance of water as a life-giving connecting thread.
This all-age extravaganza brings to life an underwater world shown through dance, death-defying aerial work and ground-based acrobatics. The Sunlight Zone merges O'Connor's background in circus and dance with new media like video and soundscape.
Performing with O'Connor Thursday through Saturday nights are two famous aerialist acrobats, Terry Crane and Jukka Jutti, as well as local dancer Ana Flecha, Montreal soundscape artist Mitch Akiyama, vocalist Theresa Douthwright and video artist Fabio Flecha.
On Sunday, the 418 Project welcomes Jessica Fudim and her 2006 Best of San Francisco Fringe Award-winning dance, Sheepish. Fudim created Sheepish after realizing that her stepfather's presence had stayed with her even after his passing. After finding an old gingham dress tucked deep in her closet, Fudim decided to tell a story of loss and longing through a somewhat distorted Little Bo Peep perspective. The piece brings the audience along on Little Bo Peep's unwavering search for her lambs as she encounters virtual hillsides, sheep-shaped clouds and dances based on audience instruction. This one-woman show is backed by multimedia like whimsical soundscores and video backdrops. And with unpredictable additives like live crank phone calls, audience interviews and remote-control lambs, the show is never the same twice.
The day before the show, Fudim holds a workshop called "Finding the Story Within the Story," which revolves around fairy tales, nursery rhymes and other myths. Participants will learn how to make a story out of movement and produce a three-to-five-minute solo work-in-progress that will be performed at the Sunday show.
THE SUNLIGHT ZONE
Thursday-Saturday, April 2-4, at 8pm (with 2pm Saturday show) at the Vets Hall, 846 Front St., Santa Cruz. Tickets $27 at santacruzdance.com or 831.454.0478.
SHEEPISH
Sunday, April 5, 8pm, at 418 Project, 418 Front St., Santa Cruz. Tickets $15 advance/$18 door at santacruzdance.com or 831.454.0478.
Send a letter to the editor about this story.