04.01.09
home | metro santa cruz index | news | santa cruz | news article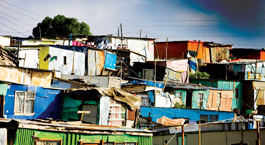 Slums by Millionaire: Santa Cruz City Council is being asked to greenlight a cosmopolitan new design for the site of the dilapidated La Bahia Hotel.
Council Thais One On
Move over, La Bahia--Little Bangkok is here.
By Curtis Cartier
After years of failed plans to build a new, first-class version of the historic La Bahia Hotel, development mogul Barry Swenson Builder has pulled out all the stops and is going big and going Thai. The latest blueprints were unveiled at Tuesday's special City Council meeting at the Santa Cruz Civic Auditorium. Collaborating with famed Las Vegas hoteliers MGM--the engineers behind several massive hotels like Las Vegas' New York New York--the new La Bahia is abandoning its Spanish roots for a Southeast Asian makeover. "Little Bangkok" will be 12 stories and 50,000 square feet of aluminum shanties, overloaded mopeds and affordable prostitutes.
"Bangkok is one of those places where everyone wants go, but no one wants to admit what they did there," said BSB spokesman Jesse Nickell. "This hotel brings home the international experience for locals and tourists alike. Our only hang-up so far has been getting visas for all the transvestites."
The current La Bahia at 400 Beach St. has fallen into a well-documented state of disrepair, and a majority of residents have expressed interest in seeing the old building either renovated or torn down for a new and luxurious alternative. And though BSB's Little Bangkok may not be luxurious ("Boom Boom Rooms" start at $35 per hour), it is new--at least for Santa Cruz.
"Yes, I can safely say this city has never had a full-on Third World slum," said Santa Cruz Mayor Cynthia Mathews, who surprised some councilwatchers by showing support for the project at the meeting. "But as a progressive town that's used to making waves, this new Bangkok-themed hotel is the perfect way to stay on the cutting edge."
Neighbors in the Beach Flats area and other residents in attendance were at a loss for words at the shoulder-to-shoulder hearing. They had come expecting a slightly scaled-down version of the hotel plans proposed last August, but were shocked when instead they were shown an Asian "monstrosity"
Don Webber, who lives directly behind La Bahia, has vocally opposed most of the various blueprints put forth by BSB. He summed up the sentiment of most of the audience, saying simply, "Little fucking Bangkok? You've got to be kidding."
A second hearing has been set for mid-April. Residents are encouraged to purchase their torches and pitchforks ahead of time, as the on-site supply is expected to run out.
Send a letter to the editor about this story.