04.01.09
home | metro santa cruz index | movies | current reviews | film review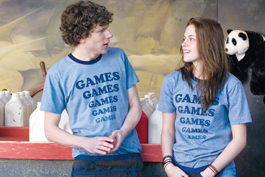 Photograph by Abbot Genser/Courtesy Miramax Films
FUN FACTOR: The T-shirts put Jesse Eisenberg and Kristen Stewart in the mood for another day at 'Adventureland.'
Bananas
'Adventureland' takes us back to the '80s, Mottola style.
By Richard von Busack
The intelligence and the malaise level in Adventureland are fairly high considering that the film is, deep in its bones, a barf, boner and bong teen comedy. The action is set in the summer of 1987 and will, in the popular mind, stamp out real memories of that year, just as American Graffiti overwrote the real 1950s.
Adventureland doesn't capture much of the essence of its time; it features, for instance, college-bound students who don't snarl about Reagan. Still, if it weren't that Apatowland and its suburbs were all about the frat-boy worldview, you could say that director Greg Mottola really took this perennial teen material to college. Mottola, of Superbad and The Daytrippers, is seasoned enough to realize that Holden Caulfield was sort of a snob. James, the Caullfieldish privileged student going to Columbia, is played by Jesse Eisenberg.
Expecting the European tour after graduating high school, James gets an unhappy surprise. His father's money has run out, and James will have to land a job somewhere to pay for college. (If Adventureland is a success, part of it will be due to the timeliness of that kind of story).
Right at the bottom of James' employees-wanted list is the amusement park Adventureland (actually Kennywood in West Mifflin, Pa.); when he gives up and applies, James is hired to work the carnival games. He is saved from trouble right off by Em (Kristen Stewart), a sharp but quiet girl who is heading to NYU.
During the summer, James deals with the local bullies and dopes, as well as a gross clown called Frigo (Matt Bush) who delights in sucker-punching James in the cubes. James finds better company with Martin Starr's Joel, a poverty-stricken intellectual, whose delusions of being Sartre lead him to walk around smoking a pipe.
Bill Hader and Kristen Wiig play the couple running the amusement park. These two robust comic actors hold together the film's episodes as well as Bill Murray held together Caddyshack. Their No. 1 problem seems to be the stuffed-toy supply. They fret over the plush bananas and "giant-ass pandas" like stockbrokers watching the Big Board. As James becomes increasingly fond of Em, he fails to realize what we know: that she's carrying on with Mike (Ryan Reynolds), a handyman at the park, who is married.
In a sense, Eisenberg reprises his acting in The Squid and the Whale; his James has the same mix of sensitivity and clumsy, unexpected self-centeredness. Mottola includes a rather fine specimen of the adolescent brain-fart: James tells Em that he wasn't in love the one time he got a chance to lose his virginity--James knew it wasn't love, because it wasn't what he had felt when he was reading Shakespeare's Sonnet no. 57. No matter how James really felt about the experience, this counts as a line he's feeding a girl. And Adventureland has enough dimension--and dimension isn't what you customarily get in Apatowland--to make us realize it is a line, no matter how much honesty is in it.
You can't blame James for exaggerating his feelings a little. Stewart broke out of the pack as the guitar-playing girl at the desert crash pad who almost seduces Emile Hirsch in Into the Wild. If Twilight is giving Stewart a worldwide audience, Adventureland proves why she is going places. She has the poise, the serenity and the slightly off-sync quality of the real star.
I also liked Mottola's refusal to make Mike a skulking predator; playing a more shadowy character than usual, Reynolds gives his best performance ever.
The film does stuck-in-the-summer scenes well; the Adventureland employees have two after-hours choices: One is a roadhouse with the Rolling Stones tribute band "Tumbling Dic" (as the marquee puts it) as regulars. The other option is Twofer Tuesdays at the disco Razzmatazz.
Two wordless sequences stand out. One is a summary stoned drive around Pittsburgh, with the girders and rivets of a trestle bridge seen from the angle of a viewer lying back, wasted, on the passenger seat, as the Velvet Underground's "Pale Blue Eyes" plays on the cassette deck. The other is a scene of the buildings of midtown New York in torrential rain, viewed through a bus window and set to the Replacements' "Unsatisfied." Superbad's amusing silliness gives way here to the perfect compromise: an apparently happy ending that is actually, if you think about it, an open ending.
ADVENTURELAND (R; 107 min.), directed and written by Greg Mottola, photographed by Terry Stacey and starring James Brennan and Kristen Stewart, opens Friday countywide.
Send a letter to the editor about this story.