05.27.09
home | metro santa cruz index | the arts | visual arts | review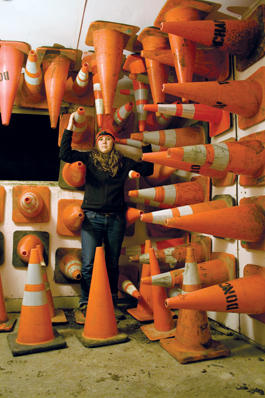 Conehead: UCSC student Anna Huemmer with her installation '48 Cones,' on exhibit at the Sesnon Gallery through June 13.
Talent Show
The university's top student artists strut their stuff at the annual Irwin exhibit.
By Jessica Lussenhop
GIVE AN art student $2,500 and you'll feed her for a semester. Teach an art student to put on a professional gallery show and you'll feed her for... a lifetime? Sadly, it's not that simple, but that's the idea behind the Sesnon Gallery's annual Irwin Scholarship Award, which has once again plucked 13 promising young talents from the UCSC art department and put them through the paces of a real live gallery show that opens today.
"We sort of guide them through," says gallery manager Leslie Fellows. "They learn all of the things that it takes to put together a professional show, from designing a card to writing a press release to preparing images."
The fellows are nominated from an art student body of over 300, then voted on by the art department faculty. "These are representative of our strongest students," says their faculty adviser, Lewis Watts. "We have people working in two and three dimensions, electronic media, traditional sculptural material, working with print. We have students doing a lot of interesting things." Those acceptance letters are an honor coveted by students throughout their careers at UCSC, and though it does come with a nice chunk of cash, there's also something to be said for the bragging rights. "It felt really good to be recognized by my faculty," says 21-year-old painter Danni Tsuboi. "In some ways it felt like it legitimized majoring in art because I feel like it's a pretty indulgent practice. It's not necessarily to, you know, make my parents happy."
Alternatively, the Sesnon is the proud parent of an eclectic show made up of photography, sculpture installations, paintings and multimedia art. And though it's a tremendous opportunity, some of the students, like 22-year-old Anna Huemmer, have also found that big white room a new and intimidating context in which to show their work. "I work outside and in abandoned spaces," she says. "The gallery is a little sterile for me, to be honest, and I find myself being a lot more picky about where I'm putting things." Huemmer says she'll be reinstalling a piece made of traffic cones that originally inhabited an abandoned house, as well as showing a new piece made out of doors she nabbed on Craigslist.
Other students, like video and multimedia artist Jordan Tynes, have seized the opportunity to create something from scratch with their newfound wealth. "My idea going into this was I would have to buy a lot more equipment, but most of the big equipment chunks have been from the gallery," he says. "If it wasn't for this opportunity I don't think I would have ever experimented with this." Tynes says he's pulled together a full sensory experience with his Chelsea Girls-inspired piece, using film and sound. "It's been superfun," he says.
Since the prize is for the most part always given to seniors, Watts says there's a fair amount of anxiety that comes from putting together a show that will serve as the punctuation mark on four years of slaving away in the UCSC studios. "They really challenge themselves. It becomes a springboard to a professional practice," he says. Not for nothing--one past Irwin Scholar, Katerina Lanfranco, just opened a group show at New York's MoMA Gallery.
While many of the scholars are headed to prestigious art programs, for Tsuboi, who is a showing a series of autobiographical paintings on quilts and paper, the show and the work are personal. "My art practice is for me. It's a very cathartic thing, and it's not to make money some day," she says.
THE 2009 IRWIN SCHOLARSHIP EXHIBITION opens Wednesday, May 27, with a reception from 5 to 7pm at the Sesnon Gallery, Porter College, UCSC, Santa Cruz. The show runs May 27-June 13. Free. 831.459.3606 or http://arts.ucsc.edu/sesnon.
Send a letter to the editor about this story.