04.15.09
home | the papers | metro santa cruz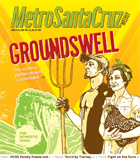 Groundswell
Between an economic downturn and a burgeoning eat local movement, victory gardens are making a comeback. Also, we investigate the mysteries of composting, examine old-fashioned nontoxic cleaning products and explore three unique home decor stores in our Domestic Issue.

Family Values
Parents may be priced out of UCSC as family student housing rents climb ever higher.
At Sea
Amid a state budget crisis, fishermen fear that marine protected areas will remain off-limits indefinitely.
Nūz: Santa Cruz County News Briefs
Survey shows California voters shrug at props on May 19 ballot; Save Our Shores heads to San Francisco to sound off about offshore oil drilling; and students turn out when UCSC's Community Studies department goes on the chopping block.


MORE MOVIE REVIEWS

SANTA CRUZ COUNTY MOVIE TIMES

Shadows and Light
Torch singer Tierney Sutton journeys to the flip side of cheerful.
Mūz
Curtis Cartier reviews new releases by metal act Mastodon, Norwegian electro-pop duo Röyksopp and Canadian indie rockers Swan Lake.
Music and Nightlife Calendar Picks
Indie darlings Fleet Foxes, southern Saharan rockers Tinariwen and bluegrass badass Peter Rowan make tracks for Santa Cruz stages this week.

MORE MUSIC AND NIGHTLIFE

MUSIC AND CLUBS LISTINGS

Fun with Factory Farm Bills
Sorting out the tripe and the hype

BOOK A RESTAURANT RESERVATION

FIND A RESTAURANT REVIEW


Letters to the Editor
April 15-22, 2009