04.29.09
home | the papers | metro santa cruz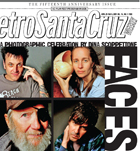 Faces of Santa Cruz
Metro Santa Cruz celebrates 15 years with a series by portrait photographer Dina Scoppettone

Not A Pretty Picture
State budget problems could tank the new Watsonville Institute of Cosmetology.
Nūz: Santa Cruz County News Briefs
It's meta-community organizing as Community Studies students vow to keep their major intact.

French Can't Can't
'Paris 36'--c'est une letdown.

MORE MOVIE REVIEWS

SANTA CRUZ COUNTY MOVIE TIMES

Steel This Rhythm
Steel Pulse guitarist and singer David Hinds on the past, present and future of roots reggae.
Music and Nightlife Calendar Picks
Balkan beatniks Underscore Orkestra, local bard Don Patthast and Seattle songbird Laura Love sashay down to Santa Cruz this week.

MORE MUSIC AND NIGHTLIFE

MUSIC AND CLUBS LISTINGS


BOOK A RESTAURANT RESERVATION

FIND A RESTAURANT REVIEW


Letters to the Editor
April 29-May 6, 2009