05.20.09
home | the papers | metro santa cruz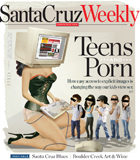 Generation X
Today's teens have unprecedented access to pornography. Jessica Lussenhop talks with a handful of Santa Cruz teens about sex, technology and parental paranoia.

Black Boxes
Throughout Santa Cruz and other towns, poisoned rodents are becoming deadly meals for wildlife.
Code Warriors
A new county appeals board launches an open rebellion against the Santa Cruz County planning department.
Smoke and Fears
The city of Santa Cruz cracks down on hookah bars
The Breakdown:
What is a billion?

Walking the Talk
'Examined Life' takes a walk with leading philosophers on a trip through the city.

MORE MOVIE REVIEWS

SANTA CRUZ COUNTY MOVIE TIMES

Such Great Heights
Jenny Lewis on relationships, acting and LSD
Goddaughter of Cesaria
Singer Maria de Barros inherits the mantle of Cape Verde song from a famous family friend
Music and Nightlife Calendar Picks
Justin Townes Earle, Gogol Bordello and the Santa Cruz Blues Festival in Santa Cruz this week.

MORE MUSIC AND NIGHTLIFE

MUSIC AND CLUBS LISTINGS

Terroirista With a Mission
A writer takes on the American wine establishment's 'fruit bomb'

BOOK A RESTAURANT RESERVATION

FIND A RESTAURANT REVIEW

Ten Questions for Ellen Primack
Street Signs:
In A ZENN State

Letters to the Editor
May 20-27, 2009
Bullhorn:
Former newspaper editor Phil Trounstine on Santa Cruz progressives and progress.