05.06.09
home | the papers | metro santa cruz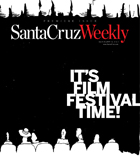 Baby Drama
UCSC alum Mo Perkins bellies up to the Santa Cruz Film Fest with a tale about love and birth in the American marriage.

In the Pink
Robert Steffen on why he shed his familiar pastel get-up--and why he feels better than he has in years.
Muddy Waters
Researchers debate how--or if - to restore Elkhorn Slough's eroded bed.


MORE MOVIE REVIEWS

SANTA CRUZ COUNTY MOVIE TIMES

Bright Lights, Big City
Cowpunk icons the Avett Brothers hit the big time with a major label deal and a hand from a pop deity.
Music and Nightlife Calendar Picks


MORE MUSIC AND NIGHTLIFE

MUSIC AND CLUBS LISTINGS

Foxx in the Vineyards
An afternoon with Prudy Foxx, grape goddess of the Santa Cruz Mountains.

BOOK A RESTAURANT RESERVATION

FIND A RESTAURANT REVIEW

Ten Questions for Susan Hillhouse
Street Signs:
Hard Play at Pinto Lake

Letters to the Editor
May 6-13, 2009
Bullhorn:
County Treasurer and former Assemblyman Fred Keeley on the political schism that won't be resolved by the May 19 election.