05.13.09
home | the papers | metro santa cruz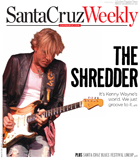 The Bluesman Cometh
In advance of his Santa Cruz Blues Fest appearance, Kenny Wayne Shepherd talks guitars, tradition and B.B. King

No Plan B
This Tuesday, voters weigh in on a crucial state rescue package. If it fails, what comes next is anybody's guess.
A March Toward Machinery
Founding UCSC faculty member Paul Lee on the demise of the humanities.

The Art of Persuasion
The yin and yang of calls to action close the Santa Cruz Film Festival

MORE MOVIE REVIEWS

SANTA CRUZ COUNTY MOVIE TIMES

Wild Life on the Delta
The River Arts Festival takes over San Lorenzo Park
Music and Nightlife Calendar Picks


MORE MUSIC AND NIGHTLIFE

MUSIC AND CLUBS LISTINGS

Technicolor Treat
Well-executed standards and a terrific view at Chaminade's casual terrace eatery, Linwood's

BOOK A RESTAURANT RESERVATION

FIND A RESTAURANT REVIEW

Street Signs:
Square Dancing for Chaos

Letters to the Editor
May 13-20, 2009
Bullhorn:
Former UCSC writing professor Don Rothman on funding the arts in a downturn.