06.10.09
home | the papers | metro santa cruz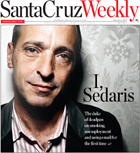 I, Sedaris
David Sedaris talks smoking, unemployment and finally using email in an interview with Santa Cruz Weekly's Molly Zapp.

After The Sh*tstorm
An uneasy truce between street kids, church, restaurant and neighbors brings peace to Lincoln and Cedar in Santa Cruz.
Board Stiffed
After bucking Santa Cruz County staff and supervisors, a rowdy planning department appeals board gets the ax.
The Breakdown:
Digital TV Conversion
Activate:
Gary Patton gives the lowdown on climate change and transportation laws in California. Tuesday, June 16 at 7pm at the Quaker Meeting House, 225 Rooney St., Santa Cruz.

False Grit
Tony Scott pumps up the action and ignores the victims in 'The Taking of Pelham 1 2 3.'
Coffin Job
Japanese feature 'Departures' brilliantly hovers between comedy and tragedy.

MORE MOVIE REVIEWS

SANTA CRUZ COUNTY MOVIE TIMES

Ridin' That Train
Kacey Jones brings country comedy back to Felton
Music and Nightlife Calendar Picks
Allman Bros. Axman Jimmy Herring, Santa Cruz indie faves Mylo Jenkins and the Austin Lounge Lizards play Santa Cruz stages.

MORE MUSIC AND NIGHTLIFE

MUSIC AND CLUBS LISTINGS

Door Prize
Even for master of reinvention Randall Grahm, the Cellar Door is a knockout.

BOOK A RESTAURANT RESERVATION

FIND A RESTAURANT REVIEW

Travels With Muley
One book leads to another when Mike Farrell hits the road to promote a memoir
Nights of Whining and Noses
Jessica Lussenhop watches a fashion show and 'Beverly Hills Chihuahua' at the second Doggie Drive-In at Crepe Place.

Letters to the Editor
June 10-17, 2009
Bullhorn:
Sara Clarenbach, director of community relations at Salud Para La Gente, makes the case for saving Santa Cruz County's only adult day health care program. "Without it, many participants will deteriorate and will have to move into a nursing home at four times the cost to the taxpayer."