06.17.09
home | the papers | metro santa cruz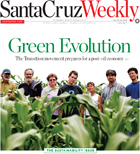 The End of The World As We Know It
And the optimistic apocalyptic group Transition Santa Cruz feels fine.

Big Fish
Big Creek Lumber seeks special consideration in next round of state salmon protection rules.
Strawberry Jam
Competing festivals in Watsonville make a mess.
Man With A Plan
It's not easy being a positive guy in a negative world, but Virgil Robinson, the force of nature behind this weekend's bikini/Speedo/lifeguard/water polo/air mattress photo shoot on Santa Cruz's Cowell Beach, is making a job out of trying.
Activate:
The Equality Action Project holds a community meeting Tuesday, June 23 at 7pm to brainstorm the next logical step in repealing Prop 8. Live Oak Grange Hall, 1900 17th Ave., Live Oak.
Running Meter:
Strawberry Fever; symptoms include wasted funds And impaired judgment.

What's Cooking?
'Food, Inc.,' an exposť of American agribusiness, is the summer's most necessary movie.

MORE MOVIE REVIEWS

SANTA CRUZ COUNTY MOVIE TIMES

Ladies' Man
Dave Alvin lets girls kick his ass. See how they do it this Thursday at the Rio.
Overdrive
Esperanza Spalding's star is rising fast. The bass-playing phenom, who's been to the White House twice in the last six months, plays two shows at Kuumbwa.
Music and Nightlife Calendar Picks
The Easy-Star Allstars present a dub version of Sgt. Pepper's, the Fixx opens up the Boardwalk's free Friday night concert series and Mighty Mike Schermer bids Santa Cruz a fond farewell with a CD release party.

MORE MUSIC AND NIGHTLIFE

MUSIC AND CLUBS LISTINGS

Badge of Honor
With the creation of its new label, Vine Hill invokes its legendary past.

BOOK A RESTAURANT RESERVATION

FIND A RESTAURANT REVIEW

Notes From The Ground
Davy Rothbart, the scavenging genius behind Found magazine, on the joys of collecting the detritus of other people's lives. Catch him snooping at the Cayuga Vault this week.
A Dog's Life
Curtis Cartier gets the scoop on the doggie daycare facility Bed and Biscuits.

Letters to the Editor
June 17-24, 2009
Bullhorn:
No beans about it, says Watsonville Councilman Emilio Martinez: the dual berry festivals will be a fiasco.