10.14.09
home | the papers | metro santa cruz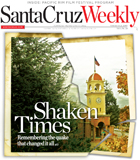 Shaken Times
Twenty years after the Loma Prieta quake destroyed downtown Santa Cruz, a poet shares his earthquake diary and a former newspaper publisher recalls the end of The Sun. Plus, all the week's earthquake commemoration activities, from disaster preparedness seminars to gala celebrations. Wheeeee!
Ten Questions for Heather Tyler
The Santa Cruz Derby Girl, a.k.a. Brawley Parton, shares her opinions on everything, mayonnaise included.
Hula Hoop Yoga and You
Our writer discovers the magic of going in circles, blissfully.

Elkhorn Slough's Troubled Waters
A new report on sanctuary health rates the estuary the most threatened part of Monterey Bay.
Breakdown:
Just in time for this Saturday's Reskilling Expo, we deconstruct the Transition Movement's new term for learning old ways.
Activate:
More bad news from UCSC--and help understanding it--when former assemblyman John Laird interprets the tea leaves at a forum on Monday, Oct. 19 at 7pm at Stevenson College, UCSC.
Bullhorn:
Observing the zombie phenomenon, author David Sirota speculates that it has something to do with our powerlessness to stop financial disaster. "Here we are, with virtually nothing changed," he writes, "watching the same zombie crises indomitably stumble forward."

Loco Parentis
In 'The Boys Are Back,' it's pizza in bed and tears before bedtime.

MORE MOVIE REVIEWS

SANTA CRUZ COUNTY MOVIE TIMES

To Treasure Island
How to run a music festival that works.
Play That Funky Tengo
As they warm up for multiple West Coast engagements, Yo La Tengo let us in on the secret: they've had rhythm all along.
Music and Nightlife Calendar Picks
Edward Sharpe and the Magnetic Zeroes, Devil Makes Three and '70s folk icon David Bromberg play to adoring Santa Cruz fans.

MORE MUSIC AND NIGHTLIFE

MUSIC AND CLUBS LISTINGS

Roadhouse Rendezvous
For almost a century, Boulder Creek's Scopazzi has offered food and drink to travelers making their way toward the stately redwoods.

BOOK A RESTAURANT RESERVATION

FIND A RESTAURANT REVIEW


Letters to the Editor
October 14-21, 2009