09.09.09
home | the papers | metro santa cruz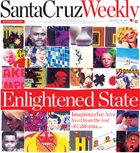 Welcome to New Bohemia
Imagining a Bay Area freed from the rest of California.
Ten Questions for Rebecca King
A sheep farmer and cheesemaker talks about her innovative Adopt-A-Ewe program and the Twilight series of vampire novels.
The Weakest of Geeks
A writer listens in on the new Santa Cruz Tech MeetUp and finds he's not half the geek he thought he was.

Snuffed Out in Santa Cruz
City leaders look to end smoking downtown and on the beach.
Drop-In Center Dropped
Santa Cruz's needle exchange program is spared, but Front Street location will close.
The Breakdown:
Wildfire Investigation
Activate:
"Food for Thought" brings together local non-chain grocers and concerned community members for a confab on keeping small stores alive. Tuesday, Sept. 15 at 7pm at the Quaker Meeting House, 225 Rooney St., Santa Cruz.
Bullhorn:
Soquel Creek Water District General Manager Laura Brown and Santa Cruz Water Department Director Bill Kocher say the desalination project is supposed to make up for current shortfalls and isn't a Trojan horse for growth. "It is not designed, or intended, to accommodate UCSC growth or higher densities than current land use zoning," they write.

Hello, Dollies
Animated '9' borrows badly from better screen adventures for young audiences.

MORE MOVIE REVIEWS

SANTA CRUZ COUNTY MOVIE TIMES

In The Court of the King of Pop
From stadium shredder to traveling troubadour, Jennifer Batten's done it all.
Music and Nightlife Calendar Picks
Southern Culture on the Skids, Sugar Ray and Reel Big Fish take us back to the '90s.

MORE MUSIC AND NIGHTLIFE

MUSIC AND CLUBS LISTINGS

The Other White Wine
Not too tart, not too sweet, riesling is better than just right

BOOK A RESTAURANT RESERVATION

FIND A RESTAURANT REVIEW


Letters to the Editor
September 9-16, 2009