07.15.09
home | the papers | metro santa cruz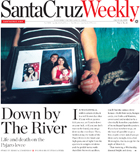 Down by the River
Life and death in the Pajaro River levee camps

Parks Idea Missing the Mark?
Closing state parks makes little economic sense, according to two new reports--and it might be illegal.
Methyl Madness
Methyl bromide, the ozone-depleting pesticide of choice for strawberry farmers, could soon be usurped. Trouble is the newcomer, methyl iodide, might be even worse.
Breakdown:
The Cloud
Activate:
Like to ride or bike? Like to escape death by Highway 1? The Santa Cruz Public Works Commission meets Monday, July 20 at 7pm at City Hall, 809 Center St., Rm 10, Santa Cruz, to discuss a bike and pedestrian underpass connecting the Tannery and Harvey West to the rest of town.

Spin Cycle
Alfred Hitchcock's masterpiece, 'Vertigo,' retains its vital mystery after 50 years
Space Madness
An earthling stranded far from home finds something amiss in 'Moon'

MORE MOVIE REVIEWS

SANTA CRUZ COUNTY MOVIE TIMES

Global A-Go-Go
Paris-based Sergent Garcia's Latin take on Caribbean party music.
Music and Nightlife Calendar Picks
Ramblin' Jack Elliott, the Starship and the Subdudes come to town.

MORE MUSIC AND NIGHTLIFE

MUSIC AND CLUBS LISTINGS

Think Pink
Structure, fruit and minerals make the roses of today essential summer drinking.

BOOK A RESTAURANT RESERVATION

FIND A RESTAURANT REVIEW

Foil Barons
Good fencers make good neighbors at Santa Cruz's club for swordplay.
Ten Questions for Becky Olvera Shultz
The Native American artist answers our questions about how she got to Santa Cruz and what she's eating right now.
New And Improv-ed
Kat Lynch gathers her courage and goes to improv class.

Letters to the Editor
July 15-22, 2009
Bullhorn:
"Sooner or later California is going to have to change how it uses water," writes Cynthia Koehler, a consulting attorney with the Environmental Defense Fund. "We can do it before we lose our salmon, or after."