07.08.09
home | the papers | metro santa cruz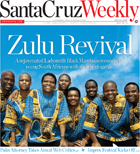 Zulu Revival
A rejuvenated Ladysmith Black Mambazo reconnects young South Africans with their heritage.

Fault Zone
For the city of Santa Cruz, this year's budget crisis recalls another disaster.
The Governor Plays Hardball
Bill Monning talks with the Santa Cruz Weekly about negotiating--or not--with Arnold Schwarzenegger.
Palin vs. the Internet
Santa Cruz writer Geoff Dunn on how the governor's attorney threatens bloggers for speculating about why she quit.
Breakdown:
Some of what you wanted to know about IOU's but were afraid to ask.
Activate:
The City of Santa Cruz finalizes its budget on Tuesday, July 14 at 3pm at City Hall, 809 Center St., Santa Cruz. Be there or miss the chance to watch $8 million disappear just like that.

Born to Kill
Jennifer Lynch takes after her father in a tale of FBI agents tracking a serial killer
American Gangster
Depp is dapper as J. Edgar Hoover nemesis John Dillinger in 'Public Enemies.'

MORE MOVIE REVIEWS

SANTA CRUZ COUNTY MOVIE TIMES

Music and Nightlife Calendar Picks
Up-and-coming indie band Howlin' Rain, British guitar phenom Robin Trower, and all-girl Swedish folk outfit the Abalone Dots appear on Santa Cruz stages this week.

MORE MUSIC AND NIGHTLIFE

MUSIC AND CLUBS LISTINGS

Fish 'n' Chicks
Laughter, gossip and true confessions occur when four women go to Hawgs on the Westside of Santa Cruz to dine. Okay, drink.

BOOK A RESTAURANT RESERVATION

FIND A RESTAURANT REVIEW

The Might of The Improv
Five weeks of improvised comic performances start this week. First up: the improv troupe that takes it all off.
Review: 'A Human Eye'
Adrienne Rich's new collection of essays blends culture and politics.
Love Poem
Santa Cruz poet Robert Sward pens an homage to his adopted home.
Promo for Pyros
Jessica Lussenhop hangs out with the fireworks vendors and finds the pitch hard to resist.

Letters to the Editor
July 8-15, 2009
Bullhorn:
Save Our Shores Executive Director Laura Kasa rejoices in a less trashy Fourth of July weekend. Now she urges us to eliminate plastic waste. "Come on, Santa Cruz, you're a cool town, let's make turning away from plastics a part of that too."