07.01.09
home | the papers | metro santa cruz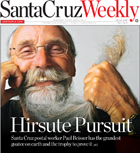 Hirsute Pursuit
Santa Cruz postal worker Paul Beisser has the world's grandest goatee--and the trophy to prove it. Plus, the perils of being a world-class bearder.

Slashers
Wincing, the Santa Cruz County supervisors pass a budget with $25 million in cuts.
Sound Off
Volunteer and activist Franklin Williams sets up a stereo museum in the Grey Bears, only to dismantle it again.
The Breakdown:
AltWeekly Awards
Activate:
The City of Santa Cruz Parks & Recreation Commission meets Monday, July 6 at 4pm at the Santa Cruz Council Chambers, 809 Center St., Santa Cruz. They're looking for bright ideas on how to keep the parks running during a budget cycle that has seen the city chop $9 million from its budget.

Doctor Manhattan
Woody Allen's 'Whatever Works' is a thin, slick comedy that stands by its title: it does work.

MORE MOVIE REVIEWS

SANTA CRUZ COUNTY MOVIE TIMES

Music and Nightlife Calendar Picks
Indie charmers Deertick, the Mighty Diamonds, Eek-A-Mouse and jazz singer Kurt Elling take Santa Cruz stages this week.

MORE MUSIC AND NIGHTLIFE

MUSIC AND CLUBS LISTINGS

Good Food on a Budget
One food writer wonders how to eat well while cutting his family's meal expenses.

BOOK A RESTAURANT RESERVATION

FIND A RESTAURANT REVIEW

Love Machine
Cabrillo Stage's musical comedy 'I Love You, You're Perfect, Now Change' is an entertaining throwback
Bard Under The Radar
Stephen Kessler remembers fellow poet Greg Hall, 1946-2009
Ten Questions for Mas Harimoto
Olallieland
The clock is a-tickin' on olalliberry pickin'.

Letters to the Editor
July 1-8, 2009
Bullhorn:
Fred Geiger questions the process around a controversial topic. "The Powers That Be have already decided," he writes. "We will have a seawater desalination plant. And you will pay for it."