08.12.09
home | the papers | metro santa cruz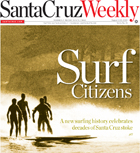 Surf Citizens
A new history of surfing in Santa Cruz pays tribute to the characters and community that built the sport.
Cutting-Edge Music
An afternoon at the 31st annual Musical Saw Festival in Felton.
Ten Questions for Sara Friedlander
The mixed-media artist explains how she got to Santa Cruz and what keeps her here.

Tenets for Tenants
Bay Area management company lays down the law for residents of its Santa Cruz apartments.
Terminated
State abandons domestic violence victims, and Santa Cruz service providers protest with a rally.
The Glorious Gas Tax
Can a tax at the pump rescue California?
The Breakdown:
Housing scams on Craigslist are bilking na´ve househunters out of thousands.
Activate:
This Thursday, Aug. 13 at 7pm, the Capitola City Council considers an 84-room Marriott Fairfield hotel at 1255 41st Avenue, site of the Lifespring Fellowship Church.
Bullhorn:
Author and political commentator David Sirota on health care reform and the Me-First, Forget-Everyone-Else Crowd.

Jumbo Prawns
South African sci-fi 'District 9' uses new techniques to tell a familiar story.
Maybe Just 'Julia'
Meryl Streep shines in 'Julie and Julia,' but beware the blog in bifurcated biopic.

MORE MOVIE REVIEWS

SANTA CRUZ COUNTY MOVIE TIMES

Sound of The New
Scott MacClelland attends opening weekend at the Cabrillo Festival of Contemporary Music and finds accessible narratives and technical virtuosity
Music and Nightlife Calendar Picks
Santa Cruz's own Expendables, the inimitable Sista Monica and jazz guitarist extraordinaire Larry Carlton do their thing on Santa Cruz stages this week.

MORE MUSIC AND NIGHTLIFE

MUSIC AND CLUBS LISTINGS

A Taste of Mount Eden
An intensive afternoon tasting reveals levels of complexity in the Santa Cruz Mountain winery's offerings.

BOOK A RESTAURANT RESERVATION

FIND A RESTAURANT REVIEW

Conspiracy Theory
The world of ancient Roman politics leaps to life in Shakespeare Santa Cruz's outstanding production of 'Julius Caesar'

Letters to the Editor
August 12-19, 2009