07.22.09
home | the papers | metro santa cruz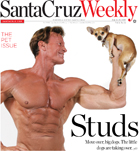 The Pet Issue
Writer Kelly Luker salutes little dogs, Jessica Lussenhop meets a clutch of multicolored pythons and Curtis Cartier photographs a surfing canine in our first-ever Santa Cruz Weekly Pet Issue.

Ad It Up
The Santa Cruz City Council gambles on tourism and minimizes its cuts to social services
City Buy-the-Sea
Capitola tries to drum up revenue with a shop local campaign
Activate:
Democratic operative Donnie Fowler and former Assemblyman John Laird discuss California's broken political system Thursday, July 23 at 7pm at the Santa Cruz Police Dept. Community Room, 155 Center St., Santa Cruz.

Unrequited
Zooey Deschanel stakes her claim as queen of the alterna-date movie in '(500) Days of Summer.'
Spellbound
The new 'Harry Potter' casts a princely spell.
Lone Wolf
The hero of 'Tetro,' just like director Francis Coppola, feels spurned by muses and critics alike

MORE MOVIE REVIEWS

SANTA CRUZ COUNTY MOVIE TIMES

That's The Power of Love
On its new release, the Handsome Family ventures into forbidden territory: romance
Music and Nightlife Calendar Picks
Gillian Welch, the Hackensaw Boys and the Ditty Bops play Santa Cruz this week.

MORE MUSIC AND NIGHTLIFE

MUSIC AND CLUBS LISTINGS

Laid Back La Mission
Famous for its sensuous housemade tortillas, La Mission still packs some spice.

BOOK A RESTAURANT RESERVATION

FIND A RESTAURANT REVIEW

The Wonderful 'Wizard of Oz'
Cabrillo Stage's spirited take on the beloved classic includes nods to the 1939 film.
Ten Questions for Tim Jackson
The man who brought us Kuumbwa and the Monterey Jazz Festival answers our nosy questions.
Street Signs
Randy young men outnumber delighted grownup women by 10 to 1 at Santa Cruz's first Cougar Night.

Letters to the Editor
July 22-29, 2009
Bullhorn:
Citizens for Health LBAM liaison Roy Upton questions whether reported berry damage in Watsonville is due to moths or myths.