08.05.09
home | the papers | metro santa cruz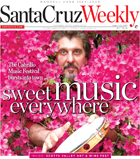 Sweet Music Everywhere
The Cabrillo Festival of Contemporary Music returns to Santa Cruz with multiple premieres, a nationally recognized conductor and a street festival--plus an inexpensive way to hear world-class music.
Local Poets, Local Inspiration
This week we introduce a new monthly feature: Santa Cruz poets writing about their home.
Ten Questions for Marin Alsop
The longtime director of the Cabrillo Music Festival answers our prying questions.

The Tightening of the Santa Cruz Greenbelt
An all-or-nothing plan for development puts Pogonip's neighbors in a bind.
Mobile Homeless
Residents of a soon-to-be-dissolved Capitola mobile home park consider their future.
The Breakdown:
"Superdupermarkets"--or whatever you call the ginormous grocery stores that keep opening in Santa Cruz.
Activate:
This Thursday, Aug. 6 at 7pm, the Santa Cruz Planning Commission will consider an 86-room, three-story Marriott Hotel planned for the far western edge of Santa Cruz--beyond Kelly's, beyond Western Drive, on the Burkett Street extension of Mission. The meeting is at City Hall, 809 Center St, Rm 10, Santa Cruz.
Bullhorn:
UCSC professor and author Bettina Aptheker recalls the Frameline International LGBT film festival, which showed in San Francisco this summer.

Flipper Ripper
Often hard to watch, the dolphin documentary 'The Cove' examines the fate of aquarium-bound dolphins who don't pass a Japanese talent contest.
Gay for A Day
The brothers are doing it for art and for themselves in 'Humpday.'

MORE MOVIE REVIEWS

SANTA CRUZ COUNTY MOVIE TIMES

Summertime Slump
In the dog days of summer, even rock and roll hides out.
The Few, The Proud, The Jazz Harmonicists
Obscure mouth harp musicians gather in Santa Cruz for a jazz summit
Music and Nightlife Calendar Picks
Doom metal priests Sunn O))) at the Brookdale, Bela Fleck and Toumani Diabate at the Rio and Lyle Lovett at the Golden State in Monterey--and that's just the beginning.

MORE MUSIC AND NIGHTLIFE

MUSIC AND CLUBS LISTINGS

Aquarian Cuisine
The Dream Inn's gorgeous new oceanfront restaurant is a feast for the eyes and palate

BOOK A RESTAURANT RESERVATION

FIND A RESTAURANT REVIEW


Letters to the Editor
August 5-12, 2009