07.29.09
home | the papers | metro santa cruz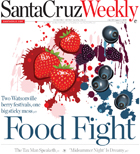 Raspberries Over Strawberries
As Watsonville's two berry festivals prepare to face off this weekend, we review their short, messy histories.
Camp Wannarockya
At UCSC this week, Soundwall Rock Music Camp trains the shredders of tomorrow.
Ten Questions for Mike Ryan
The familiar Shakespeare Santa Cruz actor tells us what he'd be doing if he weren't acting and just how much he hates big vehicles in the right lane.

Golden Opportunity
State government reform advocates, including Santa Cruz County Treasurer Fred Keeley, look at the flipside of California's budget meltdown and see a chance to mend the Golden State.
The Breakdown:
"Midtown Santa Cruz"--a marketing campaign whose time hasn't come.
Activate:
The Campaign for Sensible Transportation hosts a town hall meeting with Assemblymember Bill Monning to discuss public transportation funding. Thursday, July 30 at 7pm at Louden Nelson Community Center, 301 Center St., Santa Cruz.
Bullhorn:
As the state Fish & Game Commission prepares to adopt new protected marine areas between Ano Nuevo and Point Arena next week, Kaitilin Gaffney of Ocean Conservancy argues that, budget problems or no, we can't afford not to protect the environment.

The Doctor Is Sick
'Shrink' makes us wonder: Aren't people paid to listen to these complaints?
Fame Whore
A film in shining bad taste: that's 'Bruno.'

MORE MOVIE REVIEWS

SANTA CRUZ COUNTY MOVIE TIMES

Music and Nightlife Calendar Picks
Turtle Island String veteran Mads Tolling plays Kuumbwa, Austin blues diva Carolyn Wonderland makes a beeline for Moe's Alley and Lodge-A-Palooza descends on Brookdale.

MORE MUSIC AND NIGHTLIFE

MUSIC AND CLUBS LISTINGS

Vino Dolorosa
Premium wine sales are down, inexpensive wines sales are up. Those of us living in prime wine country can do that math.

BOOK A RESTAURANT RESERVATION

FIND A RESTAURANT REVIEW

A Midsummer Night's Smash
Judging by last Saturday's opening performance of 'A Midsummer Night's Dream,' Shakespeare Santa Cruz's 28th season will not be its last.
Stranger Than Fiction
'Shipwrecked!' maroons audience on island of laughs in SSC production.
Garden of Artsy Delights
At this weekend's Art Extravaganza, hosted by the Pajaro Valley Arts Council, it's art play among the succulents.

Letters to the Editor
July 29-August 5, 2009