09.02.09
home | the papers | metro santa cruz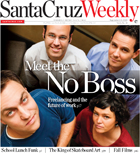 Meet The No Boss
Two Santa Cruz businesses are leading the charge to change the workplace once and for all. A Labor Day feature.
Ten Questions for JP McDaniel
Right in the middle of tomato season, the dry-farming expert at Corralitos' Sea Level Farm takes time to answer our relentless questions.
Local Poets, Local Inspiration
Santa Cruz poet Ellen Bass ruminates on a near miss in this month's installment of locally inspired poetry.
Pilgrimage
Writer Don Rothman ponders the mysterious bond between modern Santa Cruz and historic Mission San Juan Bautista.

Where's the Kitchen Sink?
Degraded facilities and strained budgets keep fresh-cooked meals out of Santa Cruz County school cafeterias.
Ban Not Yet In The Bag
Santa Cruz and other coastal cities move cautiously on banning single-use plastic bags.
The Breakdown:
Why critters flock to ash from a wildfire.
Activate:
Slow Food Santa Cruz and the Santa Cruz Education Foundation throw an eat-in on Monday, Sept. 7 at noon at San Lorenzo Park with an eye toward raising awareness about school lunches.
Bullhorn:
Jim Ayers, vice-president of Oceana and former director of the Exxon Valdez cleanup, explains why we need a comprehensive oceans policy, and what Oceana intends to do about it.

The End Is Nigh
This year's fall films warn of ecological and economic collapse, unless they star vampires.

MORE MOVIE REVIEWS

SANTA CRUZ COUNTY MOVIE TIMES

Music and Nightlife Calendar Picks
Dr. John, Five-Eyed Hand and Berlin's 17 Hippies shake a leg on Santa Cruz stages this week.

MORE MUSIC AND NIGHTLIFE

MUSIC AND CLUBS LISTINGS

A Better Breakfast
At Hoffman's the day begins with well-made dishes that give breakfast a good name.

BOOK A RESTAURANT RESERVATION

FIND A RESTAURANT REVIEW

Back To The Grind
The king of Santa Cruz skateboard art returns with a new retro line and a place of honor in a new art exhibit.

Letters to the Editor
September 2-9, 2009