08.19.09
home | the papers | metro santa cruz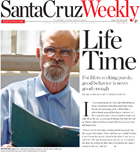 The Unforgiven
For lifers seeking parole, good behavior is never good enough.
Ten Questions for Craig Calfee
The founder of Calfee Design talks about bamboo bicycles and his plans for development work in Africa.
Bay Menagerie
You see the darnedest things from a kayak on the bay.

Firestorm of Trouble for Santa Cruz Salmon
Domestic and wild mammals fared pretty well during the Lockheed fire. Fish, not so much.
Up in Smoke
When fire engines get 4 mpg and cost $5,200 a day to operation, every wildfire brings its own financial storm to town.
The Breakdown:
During a wildfire, everyone natters on about "containment." Here's what it means.
Activate:
Think banned books and illegal wiretaps are for chumps? The Santa Cruz Chapter of the ACLU holds its annual awards ceremony and fundraiser this Sunday, Aug. 23, 3-6pm at Seymour Center at the Long Marine Lab, Santa Cruz. Suggested donation: $25-$50.
Bullhorn:
Though he doesn't reach much, commentator R. W. Goatlips reminds us of the devil in the details of the White House's health care reform plan--devils that "look like John Carradine, with curly mustaches and opera capes."

Patriotic Acts
'Inglourious Basterds' sticks it to the man--the Hitler man!
Golden
A magical goldfish offers animated enchantment in 'Ponyo.'

MORE MOVIE REVIEWS

SANTA CRUZ COUNTY MOVIE TIMES

French Kiss
Les Nubians bring soul, spice and African sizzle to Santa Cruz shores this week.
Married, With Lyrics
Kasey Chambers and Shane Nicholson: two great alt-country talents, one great album
Music and Nightlife Calendar Picks
Hawaiian slack-key virtuoso Willie K, J. Tillman of Fleet Foxes fame, Argentinean sensations Los Pinguos and string-band hipster Arann Harris play Santa Cruz this week.

MORE MUSIC AND NIGHTLIFE

MUSIC AND CLUBS LISTINGS

All Charm All the Time
A landmark for 17 years, Gabriella is charm itself, but that's just the beginning.
The Kindest Cup
A Northern California coffee blend takes its name from an all-too-rare African success story.

BOOK A RESTAURANT RESERVATION

FIND A RESTAURANT REVIEW


Letters to the Editor
August 19-26, 2009