08.26.09
home | the papers | metro santa cruz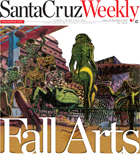 Fall Arts Preview
UCSC professor Eduardo Carrillo gets a retrospective, skateboard graphics go on display and our fall arts calendar fills you in on all the rest that's happening in this liveliest of arts seasons.
Ten Questions for Al Frisby
The New Orleans native-turned-Santa Cruz-transplant on wildflowers
A California Supermarket
Writer Stephen Kessler bids an ambivalent farewell to the old Safeway on Mission Street.

Physician, Heal Thyself
Health experts give their prescriptions for reform.
Bullhorn:
Fed up with watching right-wingers equate Obama's health care reforms with Nazism, Santa Cruz author and translator Daniela Hurezanu asks the left: Where is your rage?

Free Festival
Ang Lee's 'Taking Woodstock' is more than just nostalgia for the mud and brown acid.

MORE MOVIE REVIEWS

SANTA CRUZ COUNTY MOVIE TIMES

Good Mutations
Brazil's iconic Os Mutantes changes the game at Outside Lands
Music and Nightlife Calendar Picks
Indie up-and-comers Portugal.The Man come to Crepe Place, the Sweet wraps up the summer concert series at the Boardwalk and Michael Jackson tribute band Neverland wants to rock with you at the Catalyst.

MORE MUSIC AND NIGHTLIFE

MUSIC AND CLUBS LISTINGS

Upon The Wine-Dark Sea
Vino Prima bets on a winning formula: wine bar plus view.
Smoking Good Wine
Santa Cruz mountain winemakers are crossing their fingers that smoke from the Lockheed fire doesn't taint the harvest.

BOOK A RESTAURANT RESERVATION

FIND A RESTAURANT REVIEW


Letters to the Editor
August 26-September 2, 2009