09.23.09
home | the papers | metro santa cruz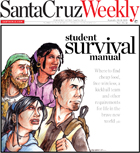 The 2009 Student Survival Manual
Don't say we never taught you anything. Tips on locating free wireless, finding a hipster sport, getting along with your roommate, surviving culture shock and learning about the essential Santa Cruz.
Dress Your Goats in Corduroy and Denim
Grass skirts and bandanas in the livestock tent at the county fair's Best Dressed Goat Contest.
Ten Questions for Ron Kaplan
The Santa Cruz-based jazz singer, who toils in patient obscurity as the executive director of the American Songbook Preservation Society, answers our inquiries.

Uncle Sam's Best Intentions
Vets enrolling at UC-Santa Cruz wonder if the new GI Bill is too good to be true.
Activate:
The Santa Cruz and Soquel Creek water districts host an informational meeting on a controversial desalinationplant proposed for Santa Cruz's Westside this Thursday, Sept. 24 at 6pm at New Brighton Middle School, 250 Washburn, Capitola.
The Breakdown:
Santa Cruz Economic Development Coordinator and former Metro Santa Cruz staffer Peter Koht brings home an award for an interactive government website.
Bullhorn:
Weighing in on the desal debate, Doug Deitch of the Monterey Bay Conservancy and multiple runs for supervisor wonders why nobody mentions a 1987 well ordinance that could have been invoked to stop aquifer overdraft.

The Big Tepid
Renee Zellweger motors through the 1950s in vague biopic 'My One and Only.'
Adrenaline Monkeys
Sanity and good judgment take a holiday in the Radical Reels Tour of extreme sports films.

MORE MOVIE REVIEWS

SANTA CRUZ COUNTY MOVIE TIMES

Kick In The Balkans
Slavic Soul Party!, fronted by local chanteuse Eva Primack, brings big brass to Kuumbwa.
A Saturday in Monterey
The Monterey Jazz Festival did it again.
Music and Nightlife Calendar Picks
Big Island reggae rock outfit Pepper, cowpunks Old Crow Medicine Show and another epic FolkYeah! music festival in Big Sur.

MORE MUSIC AND NIGHTLIFE

MUSIC AND CLUBS LISTINGS

Team Sport
Bittersweet's Tom Vinolus on the changing local food scene and the importance of teamwork in the kitchen.
The Self-Made Chef
Linwood's chef Beverlie Terra's organic approach to cuisine.

BOOK A RESTAURANT RESERVATION

FIND A RESTAURANT REVIEW


Letters to the Editor
September 23-30, 2009