09.16.09
home | the papers | metro santa cruz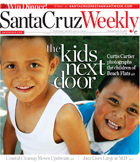 The Neighbor Kids
Curtis Cartier photographs the children of Beach Flats.
Ten Questions for Todd Newberry
The retired UCSC biology professor and author of 'The Ardent Birder: On the Craft of Birdwatching' explains his gratitude to LBJ and his aversion to waiting rooms.

Coastal Cleanup Day Swims Upstream
While the beaches get cleaner, the rivers keep getting dirtier--and that makes Emily Glanville"s job a lot tougher.
Health Care Hurdles for Entrepreneurs
Ryan Coonerty and Jeremy Neuner, two of the principals of entrepreneur magnet NextSpace, make the case for a health care system that isn't tied to employment.

Shadows of A Doubter
Matt Damon's executive wants to do the right thing in Steven Soderbergh's sly comedy 'The Informant!'

MORE MOVIE REVIEWS

SANTA CRUZ COUNTY MOVIE TIMES

For Pete's Sake
The Devil Makes Three's Pete Bernhard goes full honkytonk on his second solo release.
Big Tent Jazz
This year's Monterey Jazz Festival expands the genre like never before, rolling out the red carpet for folk singer Pete Seeger and a host of other trailblazers.
Music and Nightlife Calendar Picks
Michael Franti & Spearhead, a bluegrass tribute to 'Dark Side of the Moon' and local Motown-jamband faves Harry & The Hit Men bring joy to the music lovers of Santa Cruz this week.

MORE MUSIC AND NIGHTLIFE

MUSIC AND CLUBS LISTINGS

High-Flying Flavor
Cozy and delicious, Café Sparrow in downtown Aptos still soars.
Meet the Chefs
As Santa Cruz Restaurant Week gears up, Christina Waters sits down with Michael Clark of Michael's on Main, Ed Hoffman of Hoffman's Bakery and Michael Alonzo of Hollins House.

BOOK A RESTAURANT RESERVATION

FIND A RESTAURANT REVIEW


Letters to the Editor
September 16-23, 2009