10.07.09
home | the papers | metro santa cruz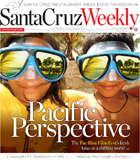 Pacific Perspectives
This year's Pacific Rim Film Festival, Oct. 16-21, documents crashing cultural change throughout the Pacific hemisphere.
Ten Questions for Joe Paquin
The office manager for WAMM fills us in on his extracurricular activities, what he likes to nosh on and what gets his goat.
Local Poets, Local Inspiration
Morton Marcus--author of 10 books of poetry (so far), contributor to numerous literary journals and godfather of the Santa Cruz poetry scene--recalls a "Day in Santa Cruz."

Remote Control
Santa Cruz County Community TV is in limbo as Comcast renegotiates local contracts.
Bullhorn:
UCSC doctoral candidate Christopher Barkan explains why student protesters won't be satisfied with mere budget reform. "What is needed is a broad social movement," he writes, "to articulate a new collective vision for the future that will replace this era of narrow special interests and for-profit social engineering."
Breakdown:
The horribly monikered business net receipts tax demystified.
Activate:
The Public Library Town Hall Meetings are starting this week, so book on down to New Brighton Middle School Performing Arts Center, 250 Washburn Ave, Capitola this Tuesday, Oct. 13 at 6:30pm for a chance to air your ideas on saving the libraries from further cuts.

Keats' Star Turn
A carefully made film, 'Bright Star' does rare justice to poetry.
Scare Tactics
'Paranormal Activity' is the most frightening film anyone will see this year.
Wheels of Fire
In 'Whip It!' first-time director Drew Barrymore shows what happens when girls collide.

MORE MOVIE REVIEWS

SANTA CRUZ COUNTY MOVIE TIMES

Entering Disleyland
Terry Disley's wild musical ride
Music and Nightlife Calendar Picks
Righteous babe Ani DiFranco, acid jazz maestros Karl Denson's Tiny Universe and freak folk darlings Citay play Santa Cruz stages, plus New Music Works teams up with Santa Cruz Councilman Ryan Coonerty for the first-ever Cabaret Politico.

MORE MUSIC AND NIGHTLIFE

MUSIC AND CLUBS LISTINGS

The Randall Grahmophone
Bonny Doon Vineyard's famous winemaker sounds off in a new book that's part anthology, part confessional.

BOOK A RESTAURANT RESERVATION

FIND A RESTAURANT REVIEW

Creative Complex
Cabrillo College throws a coming-out party for its long-awaited new arts facility.
Art of Science, Science of Art
A new show at the Sesnon Gallery explodes our notions of right brain-left brain divisions of creative labor.

Letters to the Editor
October 7-14, 2009