10.28.09
home | the papers | metro santa cruz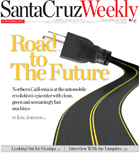 Power Play
Lean, clean and green, Silicon Valley's nascent automotive industry is on a roll
Bat Out of Hell
The members of the Vampires Motorcycle Club ride hard and fast
Ten Questions for David True
The director of the Community Restoration Program, a job-training, incarceration prevention program, lets us in on a few of his favorite things.

Friends In Need
A textbook case of financial elder abuse in Aptos becomes part of a nationwide push to protect seniors from swindlers.
Madame Mayor
In Memoriam: Mardi Wormhoudt, 1937-2009
Breakdown:
This Halloween weekend, law enforcement officers from far and wide are set to flood downtown Santa Cruz in a literal and hopefully brief illustration of the term 'police state.'
Bullhorn:
Paul Elerick, chair of the Campaign for Sensible Transportation, explains why his group is suing Caltrans over the widening of Highway 1.

In-Flight Movie
Hilary Swank kind of looks like Amelia Earhart--and that's it.
Torment
The Coen brothers explore the downside of not being God in 'A Serious Man.'

MORE MOVIE REVIEWS

SANTA CRUZ COUNTY MOVIE TIMES

Chamber Fever
Two Santa Cruz chamber music outfits, one glorious weekend.
Music and Nightlife Calendar Picks
Ozomatli explodes onto the Catalyst stage this Friday, while SambaDa, Frequency Jones, Rebelution and Extra Large ensure that getting down in your Balloon Boy costume is not optional this Saturday.

MORE MUSIC AND NIGHTLIFE

MUSIC AND CLUBS LISTINGS

Pearl in An Ocean
Spice-laden vegetarian dishes are the specialty at this tiny Sri Lankan dining room

BOOK A RESTAURANT RESERVATION

FIND A RESTAURANT REVIEW


Letters to the Editor
October 28-November 4, 2009