11.18.09
home | the papers | metro santa cruz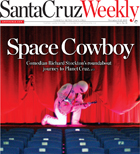 Close Encounters
Two years ago Planet Cruz launched into orbit. Today it's a standing-room-only party with fans at the ends of the earth. Comedian Richard Stockton explains how his spaceship landed here and why it's parked--for now.
Ten Questions for Noa Levin
The designer behind Mecomodo clothing shares her thoughts on what's important, what's not, and how a lifelong dream came true on the West Coast.
Penny For Your Thoughts
Thirty-five years after it started, the Penny University still gathers Santa Cruzans from all walks of life for a weekly salon.

Disorder in The Courts
Activists hope a state task force will mend California's broken family court system
Bullhorn
If the city of Santa Cruz is serious about cutting greenhouse gas emissions, writes Ecology Action program director Piet Canin, it needs to replace its cautious approach to promoting bikeable roadways with bold action.
Breakdown
The brown pelican was taken off the federal endangered species list last week after 30 years of protected status.
Activate
This Thursday, Nov. 19 at 7pm the Santa Cruz Planning Commission meets to decide whether two medical marijuana dispensaries is enough for Santa Cruz or if more should be allowed.

Pushing Too Hard
Judgments undermine solid acting in 'Precious'
Sea Sick
'Pirate Radio,' a look at '60s broadcasting anarchy in the U.K., is all wet

MORE MOVIE REVIEWS

SANTA CRUZ COUNTY MOVIE TIMES

The Boys in Green
Tea Leaf Green heads to Santa Cruz this week with an updated sound and a jones for disc golf.
Music and Nightlife Calendar Picks
Stellar Corpses, the Disco Biscuits and the Lilys on Santa Cruz stages this week.

MORE MUSIC AND NIGHTLIFE

MUSIC AND CLUBS LISTINGS

Passport, Please!
The ultimate Santa Cruz Mountains wine tasting journey begins this Saturday.

BOOK A RESTAURANT RESERVATION

FIND A RESTAURANT REVIEW


Letters to the Editor
November 18-25, 2009