11.11.09
home | the papers | metro santa cruz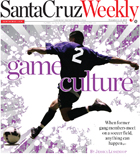 Game Culture
In Watsonville, a bold experiment is putting troubled kids from rival gangs on a soccer team, with surprising results. A season with the Aztecas.
Streetsigns
Beer, burgers and deadly serious trivia at Britannia Arms.
Ten Questions for Chad Brill
The brewmaster at Santa Cruz Mountain Brewing answers our nosy questions.

Northern Exposure
North Pacific businesses hope relaxed regulations will lead to revitalization.
Bullhorn
"Many of us are very worried about the trajectory that will make the University of California an enclave of the privileged," writes retired UCSC teacher Don Rothman, a week before UC regents meet to discuss a 32 percent tuition hike.
Breakdown:
Killer dolphins prowl Monterey Bay.
Activate
On Tuesday, Nov. 17 at 7pm, journalist Bill Moyers' film 'The Road to Clean Elections' screens at the Quaker Meeting House, 225 Rooney St., Santa Cruz.

'An Education' Flunks Out
Predictable script undermines notable acting debut.

MORE MOVIE REVIEWS

SANTA CRUZ COUNTY MOVIE TIMES

Stop In The Name of Jug
Ukulele Dick strikes again--this time with a jug band tribute to Motown.
Music and Nightlife Calendar Picks
Band of Horses side project Grand Archives comes to the Crepe Place with Santa Cruz-born Man/Miracle, local funkables Wooster drop a CD and Snoop Dogg rolls into the Catalyst.

MORE MUSIC AND NIGHTLIFE

MUSIC AND CLUBS LISTINGS

Pumpkin Thai
A Bangkok street treat inspires a new take on the classic dessert.

BOOK A RESTAURANT RESERVATION

FIND A RESTAURANT REVIEW

Land Beyond
The transcendent landscapes of Santa Cruz newcomer and nationally recognized artist Richard Mayhew

Letters to the Editor
November 11-18, 2009