01.27.10
home | metro santa cruz index | the arts | books | review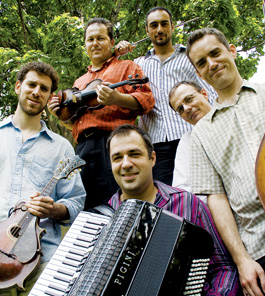 Photograph by Asli Alin
BALKAN BOOGIE: Beyond the Pale fires up the violins and squeezebox in Felton this Monday.
Eastern Bloc Party
And to think Balkan-fusion septet Beyond the Pale might have been a bluegrass band
By Paul M. Davis
ERIC STEIN, bandleader and mandolin player for Toronto Balkan-fusion band Beyond the Pale, didn't grow up on the music of his Eastern European ancestors. He was weaned on rock & roll and folk. As his tastes matured, he developed into a bluegrass aficionado. But after a couple of years performing in the bluegrass style, Stein started feeling conflicted.
"I found with bluegrass there was something about it that didn't feel quite honest playing it," Stein says. "I could do tons of practicing, I could get the technique required to play that music, but being a Jewish kid from Toronto, bluegrass wasn't within my realm of experience or my own historical and cultural context to work within."
Stein found himself gravitating toward traditional Jewish forms of Eastern European music. "I discovered klezmer," he says, "and found that it resonated with me in a particular way. I could excel in researching it and learning how to become a well-versed practitioner of it, and at the same time use it as a jumping-off point for my own musical experimentations. It became a center from where to move outwards and feel anchored."
Stein has made the most of that realization with the seven-member Beyond the Pale. Formed in 1998, the band was originally something of a stylistic free-for-all, a "kitchen sink," as Stein puts it. Veering wildly between bluegrass, jazz, klezmer and something resembling rock, the band at first lacked focus. But as Stein's interest in Eastern European music grew, the band found its footing. Klezmer and Balkan European folk music became the point of departure for creations that Stein says are "rooted in tradition, but at the same time aren't bound by any tradition."
Whenever a group of Westerners perform music inspired by traditional ethnic forms in this day and age, there are tricky questions of authenticity and cultural appropriation. By taking these traditions and tweaking them, do contemporary Western musicians do a disservice to the tradition? Stein shares these concerns and believes that Beyond the Pale has found a way to respect traditional forms without being shackled to them.
"The lineup of the band is so eclectic, and all the guys have their own different cultural and musical backgrounds," he says. "We have three Serbian guys in the band, all of whom are conservatory-trained classical musicians but have a really strong understanding and appreciation of Balkan music. Our bass player is a jazz head and our clarinet player comes from an electronic music background, so everybody brings something different to the table. When we're negotiating our way through whether it's a traditional Jewish klezmer thing or a Balkan tune, particular members of the band bring forward something of greater depth as far as understanding that tradition."
The result is an exuberant mashup of disparate musical forms that can sound formal and unhinged in equal measure. It's a tricky tightrope to walk, but Stein is confident that Beyond the Pale has done its homework. "We try to avoid any kind of slavish orthodoxy to quote-unquote authenticity," he says. "Ultimately, we break rules, but it's a matter of knowing we're breaking the rules when we break them."
BEYOND THE PALE performs on Monday, Feb. 8, at 7:30pm at Don Quixote's, 6275 Highway 9, Felton. Tickets are $10. For information call 831.335.2800.
Send a letter to the editor about this story.