02.03.10
home | the papers | metro santa cruz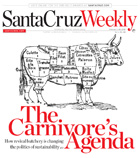 The Carnivore's Agenda
Across northern California, it's hip to butcher your own sustainably farmed meat. Is revival butchery just another food fad or the start of real change to the food system?
Ten Questions for Joe Ferrara
The owner of Atlantis Fantasyworld comic store talks about his regular Friday night gig at Shadowbrook and the things he's learned.
Local Poets, Local Inspiration
Prose poems from newly anointed Santa Cruz County Poet Laureate Gary Young.

Trouble on Albatross Island
A UCSC researcher discovers tragedy in the middle of the Pacific.
News Briefs
A roundup of news stories from SantaCruz.com.
The Bullhorn
In the midst of a recession, bartering is the new raise.

Shoot Me Now
'Edge of Darkness' finds Mel Gibson so angry he can't move a muscle in his face.

MORE MOVIE REVIEWS

SANTA CRUZ COUNTY MOVIE TIMES

Music Calendar Picks
Pimps of Joytime, Dave Rawlings Machine and Y&T come to Santa Cruz this week.
Eastern Bloc Party
And to think Balkan-fusion septet Beyond the Pale might have been a bluegrass band.

MORE MUSIC AND NIGHTLIFE

MUSIC AND CLUBS LISTINGS

The Wizard of Flaws
A new wine class at Cabrillo College lets master wine troubleshooter Sal Godinez share his hard-earned wisdom.

BOOK A RESTAURANT RESERVATION

FIND A RESTAURANT REVIEW


Letters to the Editor
February 3 - 10, 2010