June 20-27, 2007
home | metro santa cruz index | music & nightlife | preview
2007 Summer Guide:
Moscow Circus | summertime Cruz | classical festivals | summer concerts | summer theater | summer events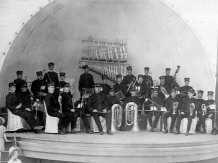 Santa Cruz Beach Boardwalk Archives
Dancing in the sand: From big-band swingers to rock-star legends, the Boardwalk's beach bandstand has held the weight of a century- worth of performers.
Summertime Cruz
Santa Cruz Beach Boardwalk's Friday Night Bands on the Beach series brings summer fun
By Damon Orion
To the world at large, the mention of a Santa Cruz Beach Boardwalk concert conjures images of the greased-up, muscle-bound sax player who strutted his way through one of The Lost Boys' key scenes. Though that particular entertainer won't be a part of the Boardwalk's 2007 Friday Night Bands on the Beach festivities, this year's series--which coincides with the celebrated amusement park's 100th birthday--promises to be equally colorful. Each Friday night this summer, a different musical entertainer from yesteryear will regale Boardwalk patrons with two free back-to-back concerts at 6:30 and 8:30pm. Here's a quick look at the lineup.
The Original Family Stone kicks off the concert series on June 22, encouraging concertgoers to dance to the music with R&B hits like "Dance to the Music" and inciting hot fun in the summertime with such soul classics as "Hot Fun in the Summertime."
Sixties-pop teddy bears Herman's Hermits starring Peter Noone perform June 29, offering morsels of youthful naiveté in the form of "Mrs. Brown You've Got a Lovely Daughter," "I'm Into Something Good" and "I'm Henry the VIII, I Am."
Featuring former members of Iron Butterfly, Blues Image, Rare Earth and Cannibal and the Headhunters, Classic Rock All Stars lead the Boardwalk in a sing-along of fun-rock standards like "Land of 1,000 Dances" and "Green-Eyed Lady" on July 6.
Former Supremes member Mary Wilson hits Santa Cruz on July 13, singing the irresistible anthems that made her group a household name ("Stop in the Name of Love," "Baby Love," etc).
With tunes like "Shakin'," "Take Me Home Tonight," "Two Tickets to Paradise" and "Baby Hold On," Eddie Money had his finger on the pulse of pool hall culture in the '70s and '80s. He performs July 20.
Greg Kihn rocks the 'Walk on July 27, reminding us that before he was a radio DJ he was the one making the hits ("Jeopardy," "The Breakup Song [They Don't Write 'Em])."
Only 15 at the time of her arrival on the pop scene, Tiffany took the lip gloss-buying world by storm with her 1987 cover of "I Think We're Alone Now." Other hits: "I Saw Him Standing There," "Could've Been," "All This Time." She sings Aug. 3.
Along with their strikingly accurate Beach Boys impersonations, the members of Papa Doo Run Run cover songs by Jan & Dean and other such surf-inclined oldies. Look for them Aug. 10.
Chuck Negron, whose robust croon graced Three Dog Night hits like "Joy to the World" and "One," will showcase that band's best-known material on Aug. 17.
Ex-Grand Funk Railroad singer/guitarist/songwriter Mark Farner plays on Aug. 24, rousing concertgoers with rockers like "We're an American Band" and "Some Kind of Wonderful."
Known as much for their kitschy theatrics as for songs like "She's a Beauty," "White Punks on Dope" and "Talk to Ya Later," the Tubes featuring Fee Waybill play Aug. 31, wrapping up this concert series in quirky, high-energy style.
The Santa Cruz Beach Boardwalk is located at 400 Beach St., Santa Cruz. For more information about the Friday Night Bands on the Beach series, visit www.beachboardwalk.com or call 831.423.5590.
Send a letter to the editor about this story.