10.13.10
home | the papers | metro santa cruz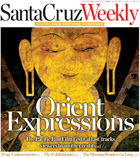 The Orient Express to Santa Cruz
The Pacific Rim Film Festival is back with carefully curated free films showing Oct. 15-20. Santa Cruz Weekly film critic Richard von Busack interviews documentary filmmaker Leo Chiang about A Village Called Versailles and weighs in on Insular Empire, a look at the U.S. relationship with the Mariana Islands.

Endorsements
Santa Cruz Weekly's recommendations on the statewide ballot initiatives

Solitary Man
'The Social Network' is a fiendishly enjoyable retelling of the history of Facebook

MORE MOVIE REVIEWS

SANTA CRUZ COUNTY MOVIE TIMES
-->

Music Calendar
The classical bluegrass of the Punch Brothers, Latin partymeisters Ozomatli, psych-rock authority Howlin' Rain and the Santa Cruz Weekly's own Paul M. Davis, all at Santa Cruz area venues this week.

MORE MUSIC AND NIGHTLIFE

MUSIC AND CLUBS LISTINGS

The Fat-Tea Party
A culinary equivalent of the Tea Party is gaining traction

BOOK A RESTAURANT RESERVATION

FIND A RESTAURANT REVIEW
-->

The Morning Benders, The Album and You
Whoever says the album is dead hasn't listened to the Morning Benders' latest release. The indie crooners play the Rio this Friday.

Letters to the Editor
October 13 - 20, 2010