11.03.10
home | metro santa cruz index | a&e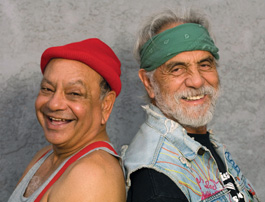 STILL JOKIN':
Cheech Marin, left, and Tommy Chong will attempt to pack the Civic.
Joint Venture
Cheech and Chong are rolling again
By Steve Palopoli
CHEECH Marin figures that, for fans, going to the Cheech and Chong reunion is like going to see the Eagles or the Rolling Stones. You know, the band plays a hit, everyone goes crazy. Another hit, everyone goes crazy. Then they play three new songs in a row.
"That's when the audience gets up and goes to the bathroom," he says.
So what can audiences expect when they go to see the new tour, which comes to the Santa Cruz Civic on Friday? Definitely one of their most famous bits. Then another. "Then we're going to do three new Eagles songs, and three new Rolling Stones songs."So yeah, Marin's sense of humor hasn't changed much. Back in the early '70s, when he and Tommy Chong were putting out comedy albums that had actual hit singles like "Basketball Jones" and "Earache My Eye," it was called "drug humor," and it made parents all kinds of aggravated. But a legion of cool kids loved it, which made the uncool kids want it, and suddenly Cheech and Chong were the voice of a stone-y generation.
The weird thing is, not that much has changed, as evidenced by Chong's arrest in 2003 for his involvement in his son's Internet bong business (he pled guilty to one count of distributing drug paraphernalia and served nine months in federal prison). If nothing else, the sorry state of the nation's drug laws has kept Cheech and Chong's humor relevant."It's as edgy today as it was then," says Marin. "It holds up." What has also held up is their partnership—to the surprise of absolutely everyone except Cheech and Chong themselves. When the pair split after their 1985 album and video Get Out of My Room, it was on famously unfriendly terms.
"It wasn't good," admits Marin. "You know what it was, we just kind of got tired of each other. We'd been together so long. We were spending all our time together."
Chong was particularly devastated by the breakup, comparing it to a divorce. But even in the worst of times, neither felt like their partnership was over for good. "Every once in a while, we'd hook up and talk," says Marin. "We'd talk about getting together and doing something, but we'd end up arguing, because the animosity was still there. It's still there, to some extent, but we manage it better. We learned how to talk to each other better."Even in the early days, their career had a lot of ups and downs, which Marin says is just the nature of the beast.
"Putting together a comedy team to make a go of it is the hardest thing in show business," he says. "It's so hard to make it work."
With that in mind, why did he and Chong choose to work a two-person act in the first place? "Well," he explains, "it was better than seven people."
That's how many were in City Works, the Vancouver comedy troupe where they both broke into comedy. The group held shows in a strip bar and was very much into humor on the lunatic fringe.
They worked great together, so when the group broke up, they developed an act of their own. Considering their origins, Marin finds it ironic that the mainstream considered them so dangerous, when in fact they were part of one of the most old-fashioned show-biz institutions. "We came out of a strip bar in Vancouver, that's where we got our start," he says. "It was topless improv. But what we were really doing was burlesque." But they certainly took it to a new high. Cheech and Chong's first film, 1978's Up in Smoke, basically invented the stoner-film genre that would later lead to cult hits like Half Baked, Super Troopers, Harold and Kumar Go to White Castle and Pineapple Express. Marin looks at this very philosophically: "The genre needed to be invented, and we were there." They'd stay there for quite a while, through sequels like Cheech and Chong's Next Movie, Nice Dreams, Still Smokin', etc.
The stage show they developed together is so old now, it's new again. Marin estimates that at least 80 percent of the people coming to their sold-out reunion shows weren't old enough to see them back then, if they were even born yet. And yet, the live act is still Marin's favorite of all the work he's done with Chong. "That was the best thing that we did," he says. "Better than the movies, better than the records."
CHEECH AND CHONG
Friday, 8pm
Civic Auditorium, 307 Church St., Santa Cruz
$29.50–$55; www.santacruztickets.com
Send letters to the editor here.