11.03.10
home | the papers | metro santa cruz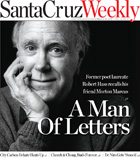 A Man of Letters
Former poet laureate Robert Hass recalls his friend Morton Marcus.

Carbon Plan
Fewer Car Trips Key to A Greener Santa Cruz

The Wall
De Niro and Norton go mano a mano in the hard-to-swallow drama Stone

MORE MOVIE REVIEWS

SANTA CRUZ COUNTY MOVIE TIMES

Music Calendar
Steel Pulse, Sean Hayes, Hillstomp and Stars on Santa Cruz stages this week.

MORE MUSIC AND NIGHTLIFE

MUSIC AND CLUBS LISTINGS

The Santa Cruz Crush Is On
And by all accounts, theunlikely 2010 growing season could make for a great vintage

BOOK A RESTAURANT RESERVATION

FIND A RESTAURANT REVIEW
-->

Joint Venture
The pot-themed comic duo Cheech and Chong are rolling again.

Letters to the Editor
November 3 - 10, 2010