10.20.10
home | the papers | metro santa cruz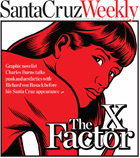 Notes From The Underground
In the first book of his new series, graphic novelist Charles Burns voyages to a phantasmagoric, post-punk universe.

Battle for The Budget
Prop 25 may be the only initiative on the Nov. 2 ballot that matters.

Beat the Clock
The new film 'Howl' half-succeeds in showing how Allen Ginsberg's great poem withstood the censors.

MORE MOVIE REVIEWS

SANTA CRUZ COUNTY MOVIE TIMES

Music Calendar
Cat Power, Minus the Bear and Bonnie "Prince" Billy all set their GPS devices for Santa Cruz in a blue-ribbon week of indie joy.

MORE MUSIC AND NIGHTLIFE

MUSIC AND CLUBS LISTINGS

The Fat-Tea Party
A culinary equivalent of the Tea Party is gaining traction

BOOK A RESTAURANT RESERVATION

FIND A RESTAURANT REVIEW
-->

Leslie Marmon Silko in Santa Cruz
The award-winning Native American author breaks her decade-long creative silence with a self-portrait of life in the desert.

Letters to the Editor
October 20 - 27, 2010