11.03.10
home | metro santa cruz index | music calendar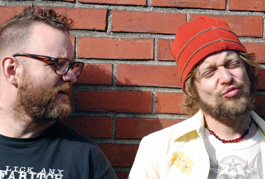 PUCKER UP:
Hillstomp loves ya. Collect your kisses this Sunday at Crepe Place.
Music Calendar
November 3 - 10, 2010
Thursday | 11/4
MEKLIT HADERO
Drawing comparisons to Joni Mitchell, Nina Simone and Norah Jones is a high bar for any musician to approach, but it's one that Meklit Hadero seems to soar over with ease. The Ethopian-born, San Francisco–based Hadero is graced with a warm and magnificent voice, a songwriter's heart and a dynamic range and delivery that floats from note to note like a butterfly on a lazy summer's day. Imbued with the emotion of soul, the timing of jazz, the storytelling of the blues and the humanness of global folk music, Hadero creates songs that are unique, lovely and personal. Don Quixote's; $12 adv/$15 door; 7:30pm. (Cat Johnson)
Friday | 11/5
STEEL PULSE
Though they're now the elder statesmen of a popular form of highly danceable reggae, it wasn't always thus for Grammy winners Steel Pulse. They had plenty of trouble getting bookings in their early days, and their Rastafarian reggae anthems weren't making any friends in the Brits' club scene. Steel Pulse represents the ideals of a community that has been historically dragged around, and besides the ganja, their lyrics push pan-African pride and Rastafari beliefs. And although they picked up some pop and, most recently, hip-hop on the journey to recognition, they remain admirably loyal to their roots. Catalyst; $26 adv/$30 door; 9pm. (Kate Jacobson)
SEAN HAYES
Sean Hayes is the sort of under-the-radar singer/songwriter too eccentric for the mainstream and too earnest and eclectic for the underground. As such, he has never really fit into any particular scene or style. But for those who can look past his lack of cultural cache (or who see that as an advantage,) the San Francisco musician is a compelling cross between a traveling troubadour and a seer. Hayes adheres to the American folk tradition but is no revivalist, often collaborating with DJs and electronic artists to give his rustic strains a postmodern sheen. It's these qualities that confound the people in marketing but define Hayes as a true original. Moe's Alley; $15 adv/$18 door; 9pm. (Paul M. Davis)
Saturday | 11/6
GHOSTLAND OBSERVATORY
Born of a desire to meld the drive and energy of rock & roll with the beats and textures of modern electronic music, Ghostland Observatory has emerged in the last few years as a player upon the ever-growing electro-rock field. Their hard-hitting delivery and quick-stepping tempos give the Austin-based duo a Bowie-meets–Daft Punk, back-to-the-future vibe, but their minimalist approach to sonic textures leaves plenty of room for poetic lyrics and impassioned vocals that fall somewhere between Prince, Freddie Mercury and Marc Bolan, and lend an organic element to the glam-fabulous affair. Catalyst; $20 adv/$25 door; 9pm. (CJ)
SLUGS N' ROSES
As any good Deadhead knows, the music never stopped, and there are plenty of bands—cover, original, side-project and otherwise—that are helping to keep the Dead train on track around the world. As second home to many a dancing skeleton, Santa Cruz dutifully does its part to keep things spinning along, and even has its own banana slug-referencing Grateful Dead tribute band. A divine convergence of music, mascot and merriment, Slugs N' Roses is all that you need—musically, anyway—to celebrate the songs, culture and energy of the Dead. Proceeds benefit Bonny Doon School. Don Quixote's; $10; 9pm. (CJ)
Sunday 11/7
HILLSTOMP
Hillstomp's simple formula—jackhammer junkyard blues banged out with the intensity and ad-hoc DIY-ism of punk rock—has proven exceptionally versatile. The Portland duo is something of a counterpoint to the stadium-rock ambitions of another famous duo, the White Stripes; Hillstomp prefers to remain in the camp of garage-blues eccentrics such as Bob Log III, Jack Oblivian and Scott H. Biram. But where many of their contemporaries land on the shores of a singular American Primitive aesthetic and remain there, Hillstomp is much more restless, with a wide scope and versatility at odds with its humble ambitions. The band's latest, Darker the Night, is its most realized statement to date. Crepe Place; $10; 9pm. (PMD)
Monday | 11/8
JEFF LORBER FUSION
It's easy to take the position that sticking within a single genre produces nothing that hasn't already been heard, and that if there isn't some kind of fusion going on then it doesn't count. Former session man for jazz MVPs such as Dave Koz and Herb Alpert, Jeff Lorber plugged his jazz/rock/funk amalgam into an electrical outlet and created his own personal genre in the process. Eric Marienthal on sax, Jimmy Haslip on bass and Will Kennedy on drums join Lorber on his funkiest foray to date. It's a dancey mix that lends itself to hip-hop sampling, different but familiar in the way people digest a freak Indian summer followed by heavy rain. Kuumbwa; $25 adv/ $28 door; 7 and 9pm. (KJ)
Tuesday | 11/9
STARS
Shimmering indie-pop collective Stars rode on the coattails of the success of fellow Canadians The Arcade Fire and Broken Social Scene (with whom they share members.) Since then, they have proven themselves to be every bit the equal of their higher-profile siblings. The songs demonstrate a fluency with '00s indie rock, '80s synth-pop and choice bits of late-'90s emo, presenting an exquisite sonic bedrock for the harrowing breakup tales that singers Torquil Campbell and Amy Millan detail. It's exquisitely crafted turn-out-the-lights music for the kind of heartache that lingers long after the relationship ends. Rio Theatre; $18; 8pm. (PMD)
Send letters to the editor here.