11.03.10
home | metro santa cruz index | currents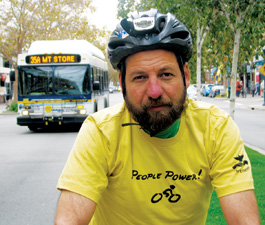 Photograp[h by Chip Scheuer
THE PEOPLE'S PLACE:
Among other things, Micah Posner of People Power would likethe city to make it easier for event organizers to close off sections of Pacific Avenue.
Driving Factors
Transportation a sticking point in climate change plan
By Jessica Lyons
IF 5,000 Santa Cruz homes install solar panels by 2020, the city will cut its residential electricity use by 25 percent. So dim the PG&E bill and let the sunshine in, say city planners.
It's a bold plan—currently only 500 homes have solar systems—and one of several ambitious goals proposed by the city of Santa Cruz to cut greenhouse gas emissions 30 percent from 1990s levels by 2020.
The draft Climate Action Plan, or CAP, is intended to fulfill the state-mandated emissions reductions and climate-change-related policies spelled out in the city's draft General Plan 2030. In addition to the solar panel spree, it also proposes reducing car trips by 30 percent, reducing water use by 10 percent, increasing bus ridership by 50 percent and becoming a zero organic waste city. Altogether it aims for a future that's 80 percent less carbon intense than the one we're headed for now.But critics find that it falls short.
"One cannot simultaneously prevent and prepare for war," says People Power's Micah Posner, quoting Albert Einstein. He adds: "Traffic is like that. Our global warming policy is to plan on a 30 percent reduction in car trips, but our transportation plan projects increased car trips and more parking garages by 2020."People Power, along with eco allies Transition Santa Cruz and the Campaign for Sensible Transportation, wants to see the CAP become even less car-friendly. They've met with planners and sent letters to the city suggesting that 30 percent of traffic impact fees should be set aside for bike and pedestrian projects (currently it's 15 percent). The groups also want the city to eliminate parking requirements for new developments over a 10-year period, stop building new parking garages, build a bike facility on King Street, create more bike lanes throughout the city, attract state and federal funds to operate a trolley service along the rail lines and allow event organizers to close off parts of Pacific Avenue without having to pay for lost meter revenue—among other carbon-footprint-erasing measures.
But it all hinges on the 30 percent reduction in car trips, Posner says.
"Unfortunately, the draft plan has almost no language as to how this reduction will take effect," he says. "Our concern is that the Climate Action Plan, in particular the transportation sector of the plan, will gather dust alongside other city planning documents including the Master Transportation Study."
Indeed, the 30 percent fewer car trips seems to be an initial sticking point of the draft plan. Environmentalists love it. Business groups, on the other hand, aren't quite as enamored. Chamber of Commerce executive director Bill Tysseling says the Economic Development Council is taking a look at the plan, suggesting "opportunity areas" that it should include and making recommendations about "reality-testing it."
Reality testing, he says, begins with the proposed 30 percent reduction in car trips. "That was actually included in a prior General Plan and we weren't able to do it," Tysseling says. "We didn't have any success. That's a difficult one to achieve."
Instead, he says, it makes more sense to put the city's anti-global-warming efforts into higher-efficiency vehicles and smarter travel patterns. "Could we support more efficient travel? Reducing time on the road to a destination? Stopping at lights? Stopping in traffic? There's reason to believe that there will be a natural improvement because of energy efficient improvements in vehicles, but there may be some things we can do to encourage that."
While cutting car trips by a third may not work, the CAP does present opportunities to grow green, Tysseling says, that make sense from both a business and environmental perspective. The city can make it easier for developers to reuse existing structures rather than building new ones, for example. The plan should also encourage both locals and tourists to shop downtown, he says, and look at ways to reduce visitors' carbon footprint."Over the next two or three decades we are all going to have to be engaged in this. It's going to have some costs attached and it's going to have some benefits. It's going to depend how it's played out."The CAP isn't intended to squash business—or growth, for that matter, says climate action coordinator Ross Clark, the document's principal author.
"The draft Climate Action Plan is not a dictate against future development or economic growth within Santa Cruz," he writes in the City Council report. "The Climate Action Plan is a strategy for Santa Cruz to grow in a sustainable way that meets GHG reduction goals while continuing to allow for the public and private development and redevelopment that will keep Santa Cruz a vibrant and livable community."
PUBLIC COMMENT on the Climate Action Plan ends Nov. 7. To read and comment, go to www.cityofsantacruz.com/index.aspx?page=1544. The Planning Commission will discuss the CAP on Nov. 18 at 7pm at City Hall.
Send letters to the editor here.