10.27.10
home | the papers | metro santa cruz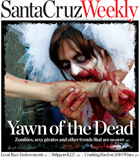 Night of The Living Cliches
Zombies, sexy pirates andother Halloween fads that are so over.

A Grave Matter for SantaCruz
Neighbors fight adevelopment next to the crematorium.
Political Endorsements
The Santa Cruz Weekly'spicks for local races and measures.


MORE MOVIE REVIEWS

SANTA CRUZ COUNTY MOVIE TIMES
-->

Music Calendar
RTX, Bill Kreutzmann vehicle7 Walkers and chameleonlike crooner Nellie McKay play Santa Cruz while SambaDahelps the locals party Halloween Night away at Moe's Alley.
Keys to The Kingdom
Van Cliburn winner JonNakamatsu shows what the true king of instruments can do

MORE MUSIC AND NIGHTLIFE

MUSIC AND CLUBS LISTINGS

The Santa Cruz Crush Is On
And by all accounts, theunlikely 2010 growing season could make for a great vintage

BOOK A RESTAURANT RESERVATION

FIND A RESTAURANT REVIEW

R.I.P., ScripTease
The compulsively disrobingimprov troupe calls it quits

Letters to the Editor
October 27 - November 3, 2010