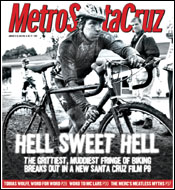 For the Week of
January 12-19, 2005
Cover Story: Hell, Sweet Hell:
The grittiest, muddiest fringe of biking breaks out in a new Santa Cruz film.
Nüz: Blue is the new orange, reform is the new fraud and teachers are the new special interests.



Rev: My first auto show.



Copy Cast: Word for Word breathes new life into lit--and the art of performing it--with its literal-minded delivery.



Hoop, There It Is: 'Coach Carter': Richmond, town without pity.



Word Freak: MC Lars raps literary, keeps it surreal.
The Rock Show: Lee Rocker; the Dead Hensons.



Meatless Myths: A recent 'San Jose Mercury News' article shows that disinformation about vegetarianism dies hard.
Copyright © Metro Publishing Inc. Maintained by Boulevards New Media.