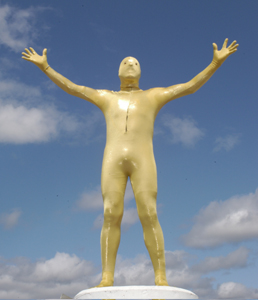 Goldies 2004

Your picks for the Santa Cruz best of everything meet our wacky factoids in this year's Goldies Issue

Goldies 2004 Contents:
Arts & Culture (readers' choice)
A-Z Index of Names/Places
Economic Index
Food & Drink (readers' choice)
Goods & Services (readers' choice)
Historical Index
Lit
Miscellaneous
Movies
Music
Music & Nightlife (readers' choice)
People & Places
People & Places (readers' choice)
Politics
List of 'Stans'


We admit it, we just got jealous. All those lists you guys get to make when the Goldies come around--best this, best that, best whosit to whatnot in public. Once again, the ballots poured in both on paper and online, and you can see the results of all your voting devotion by jumping to the Goldies results that begin on page 15.
But while we were elbow deep in our ballot-counting this year, we suddenly thought, "Hey, why shouldn't we make some lists of our own?" Not lists we made up ourselves, but Top 10 lists of some of the actual weird trivia floating around out there in the Santa Cruz zeitgeist. (Have you seen that thing? It's enormous!) Thusly was the Santa Cruz Index born.
Oh yeah, this took some intensive research, but when we were done, we had lists and lists of trivia bits from many vectors of the Santa Cruz experience. So we broke them down into a few subcategories: Politics, People & Places, Music, Movies and Lit. We also threw in a couple of Harper's-style indexes sampling Santa Cruz County's history, nomenclature and economy.
But, wouldn't you know, that still wasn't enough. "These Goldies voters," we said in awe, "what power they wield to choose their own winners! Dare we, too, be as gods?" (It was very Tenacious D, you should have seen it.) Finally, we decided, "Sure, whatever," and added a "Miscellaneous" section to the Santa Cruz Index, which, we must admit, is pretty much bullpoop, but hopefully entertaining enough. When all's said and done, you still kick our ass in the list-making department, but at least we gave it our best shot. For those about to be listed, we salute you.
[ Santa Cruz | Metroactive Central | Archives ]