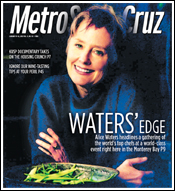 For the Week of
January 19-26, 2005
Cover Story: Waters' Edge:
Alice Waters headlines a gathering of the world's top chefs at a world-class event right here in the Monterey Bay.
Skid Roe: Roe v. Wade turns 32 this week. But is the Democratic Party leaving it in the lurch as it searches for new leadership?
Nüz: A new radio documentary looks at Santa Cruz County's housing crisis.



Rev: Prius Plus: Whew, not some crazy electric hippie car, this one's practical! And it does all the thinking for you.



The New Deal: Murnau's 'Faust' screens in Santa Cruz and Monterey with a brand-new score.
Learning Curve: Almodóvar goes to the head of the class with 'Bad Education.'
Silk Degrees: 'House of Flying Daggers' shows off Zhang Yimou's wonderful world of color.



The Rock Show: The closing of Henfling's; Felton Independent Community Radio benefit; the Dead Hensons.



Pour Behavior: A tasting-room veteran offers some no-bull wine-tasting tips for Generation Next. For your own sake, abide.
Copyright © Metro Publishing Inc. Maintained by Boulevards New Media.