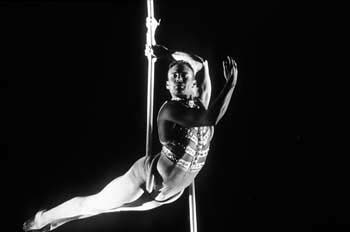 Pickled Pink: The New Pickle Circus ushers in three days of acrobatic circus feats this weekend at Watsonville's Henry J. Mello Center.

Tandy Beal and Company returns with another high-flying New Pickle Circus performance

By Karina Ioffee

LAUGH-INDUCING CLOWNS, body-contorting acrobats and a bag full of comedy are just a few of the theatrical tricks that the New Pickle Circus will use to mesmerize local audiences this weekend. Heralded as the "pioneers of the new circus renaissance," the 9-year-old troupe is renowned for its combination of drama, comedy, dance and live music.

The one-ring, animal-free circus is designed to appeal to all ages and tastes, according to New Pickle Circus founder and director (and local dance legend) Tandy Beal. "This is the type of show that you can take your 3-year-old, your grandma or even your arts-sophisticated spouse to," Beal says.

Started as a reaction against the typical Barnum & Bailey school of circus, the New Pickle Circus evolved over the years as a production of higher theatrical values. Beal says it's been an inspiration to such companies as Cirque du Soleil and Circus Chimera. Although there is an air of the avant-garde in New Pickle performances, it includes old-time favorites as well, such as clowns Diane Wasnak and Jeff Raz, better known as Pino and Raz, who are back with their giddy antics and humor.

International performers also will be playing a bigger role in this production than in years past, with six Chinese acrobats and two Russian gymnasts.

Masters in the arts of balancing, teeterboard, and acrobatic clowning, Yuri and Svetlana Lololabova, a husband-and-wife team from Russia, have toured the world both teaching and performing. Acrobat Weng Xiao Hong's tricks with poles and hoops and Guangyi Chai's knife juggling and chair balancing have also been seen around the world.

The circus' style also incorporates improvisational comedy, dance and rhythmic gymnastics. Performer Saki Sakimoto will use the ball, hoop, rope and ribbon in a graceful combination of dance movement and complex tricks that include throwing, rolling and spinning these objects.

Sakimoto, who is a first-year performer with the New Pickle Circus, also teaches at Gault Elementary School and says that the experience of working with the troupe has been amazing. "Our troupe is small, and this has given me a chance to get to know everyone really well," Sakimoto explains. "And I'll tell you this--I love going to work."

Beal, who directed last year's production, titled Smash Bang!, is particularly proud of this year's show, Step Right Up!, describing it as "the best in years." Emphasizing the aspect of community, she believes that the New Pickle Circus also serves the purpose of bringing different people together. "The shared time of wonder, beauty and joy is so vital to our lives," Beal says.

When people speak of the arts, the circus is rarely mentioned. But according to Beal it should be, because so much creativity goes into it. "It's a real art form," she says, "although many people don't realize it."
---
The New Pickle Circus runs Jan. 22-24 at the Henry J. Mello Center, E. Beach and Lincoln streets, Watsonville. Tickets are $14/$8 in advance and $16/$10 the day of the show. For more info, call 831.763.4047.
---
[ Santa Cruz | MetroActive Central | Archives ]