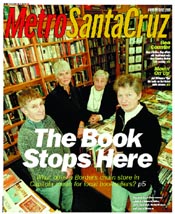 For the Week of
January 21-27, 1999
Cover: The Book Stops Here
What does a Borders chain store in Capitola mean for local booksellers?



Movin' On 'Up': Ani DiFranco Ups the ante on her latest indie release.
Notes From The Underground: Lonely Kings' release 'Creed,' and could the end be near for Berkeley's Gilman?



Show Us The Money: A Simple Plan and You've Got Mail live down to the Hollywood maxim 'Money is not for poor people'.



Bea Counter: Bea's Koffee Kup offers old-fashioned eats in a Formica-fueled '50s setting.



Big-Top Pickle: Tandy Beal and Company returns with another high-flying New Pickle Circus performance.
Righteous Rage: Brooklyn Slam poet Alix Olson joins the Santa Cruz slam team.