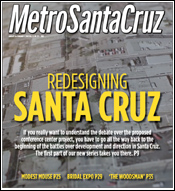 For the Week of
January 26-February 2, 2005
Cover Story: Redesigning Santa Cruz:
If you really want to understand the debate over the proposed conference center project, you have to go all the way back to the beginning of the battles over development and direction in Santa Cruz. The first part of our new series takes you there.
Nüz: Santa Cruz residents speak out on the conference center proposal.



Rev: Partial Zero Emissions Vehicle--what does that involve? What's a 'partial zero'?



Totally Expo'd: Weddings scare us. But this weekend's Santa Cruz Bridal Expo at the Cocoanut Grove does not.



Little Birds: 'The Woodsman' offers sympathy for a short eyes.
Hotel Hell : Don Cheadle tries to hold back the terror of genocide in 'Hotel Rwanda.'



Modesty Blaise: Modest Mouse shills for Nissan and break some hearts in the process.
The Rock Show: Don Quixote's music room; New Thrill Parade; Alientar.



Lean Cuisine: January looks like ham and beans.
Copyright © Metro Publishing Inc. Maintained by Boulevards New Media.