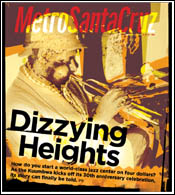 For the Week of
February 2-9, 2005
Cover Story: Dizzying Heights:
How do you start a world-class jazz center on four dollars? As the Kuumbwa kicks off its 30th anniversary celebration, its story can finally be told.
Nüz: Local photographer Frans Lanting's 15th annual fundraising benefit show goes 'Extreme.'



Rev: Go Enduro: The body has a stripped-down, almost skeletal look. Basically, they look like giant insects.



The Quality of Mercy: Al Pacino shows us the scorn of the scorned man in a magnificent 'Merchant of Venice.'



A Trio by Any Other Name: Timothy Baker lucked into use of the name Amadeus for his trio--and has used it as a springboard into international renown.
The Rock Show: Flogging Molly.



Stranger in a Strange Land: Our resident vegetarian boldly takes on the final frontier--steakhouses--and Peachwood's comes out on top.
Copyright © Metro Publishing Inc. Maintained by Boulevards New Media.