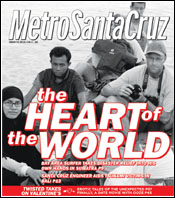 For the Week of
February 9-16, 2005
Cover Story: The Heart of the World:
Bay Area surfer takes disaster relief into his own hands in Sumatra.
Forging the Food Chain: A Santa Cruz engineer is rebuilding fisheries and restoring nutrition in Bali.
Nüz: Newly elected Sen. Joe Simitian moves into Bruce McPherson's old office.



Rev: Big Monster: It's not really a surprise, just a reminder that of course the largest oil company in the world would post huge profits in 2004.



Hug My Face: Author Christopher Moore gets 'Alien' for Valentine's.



Odd Is Evens: After 25 years of making music, Minor Threat and Fugazi frontman Ian MacKaye continues to confound expectations.
Making Symphony History: The Santa Cruz Symphony just delivered one of the best concerts in the history of Monterey Bay music--and there's another chance to hear it.
The Rock Show: Modest Mouse; UCSC graduate recital.



Hard Times: Two new erotic anthologies find edgy sex in America's bad news.



Grate Expectations: The River Cafe and Cheese Shop brings the true cheese experience to Santa Cruz.
Copyright © Metro Publishing Inc. Maintained by Boulevards New Media.